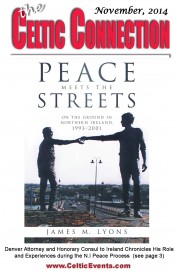 by Rodger Hara – - -
After a fun gig in Omaha at the Dubliner (which the Celtic Tavern's Noel Hickey patronized while visiting his son who's in school there), The Indulgers are at Brendan's Pub, 4th and Broadway in Denver on the 1st at 8 PM, The Exchange Tavern in Westminster on the 8th at 8:30 PM and at Conor O'Neill's, Boulder at 10 PM on the 15th.
Brian Clancy does his regular gigs at Jack Quinn's, Downtown Colorado Springs at 7:30 PM on the 6th, 13th and 20th and at The Irish Snug on Capitol Hill in Denver at 8:30 PM on the 8th, 15th and 22nd.
Gaelic Storm is at the Gothic Theatre in Englewood on the 6th for an all-ages show. Doors open at 6:30 PM, show at 7:30 PM. Tickets $22 in advance, $27 at the door.
The ever busy Potcheen does a +21 age limit Gaelic Storm-After Party @ Moe's Denver BBQ and Bowling on S. Broadway next to the Gothic Theatre on the 6th at 10:30 PM. Tix are $5 at the door. On the 8th, they're at Jack Quinn in Colorado Springs at 9 PM, Cactus Jack's Saloon in Evergreen on the 14th at 9 PM then close out the month at O'Malley's Pub in Weston, MO on the 21st at 8 PM
Juice O'the Barley is at the Sheabeen Pub in Aurora on the 21st at 8 PM and at Maggie Smith's in Centennial at 7 PM on the 22nd.
Keep Britain Irish plays at Maddie's Biergarten in Castle Rock at 7 PM on the 22nd.
The Mountain Road Ceili Band is on stage at The Margarita, Colorado Springs, on the 14th at 5 PM.
You can catch Avourneen at Katie Mullen's, downtown Denver, at 9 PM on the 7th, 14th and 28th and at The Abbey Tavern on the 8th at 8 PM. Adam Goldstein plays Irish tunes on Lannie's Clocktower Cabaret at 11 PM on the 1st, 15th, 22nd and 29th.
The Stubby Shillelaghs trek down from Greeley to play at Scruffy Murphy's in LoDo on the 14th at 9 PM.
Folk Ragout with Ryan Marvel are at the Magnolia Music Studios, 210 W. Magnolia St in Ft. Collins at 7:30 PM on the 8th and at the Swallow Hill Music Hall in Denver at 7:30 PM on the 13th. Tix are $10 each for both shows.