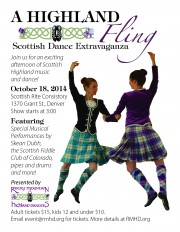 By Rodger Hara – - -
On October 18 at 3:00 PM, nearly 40 dancers representing the McCulloch Scottish Dance Academy, EJ Bennett School of Highland Dance, Pamela Patrick Moisey School of Highland Dance, Cristy's School of Highland Dance, Happy Feet Scottish Dance Academy, Colorado Youth Pipe Band Dancers will present A Highland Fling at the Scottish Rite Consistory, 1370 Grant Street in Denver. Sponsored by the Rocky Mountain Highland Dancers of the St. Andrew Society of Colorado, performances will include dancers who qualified from the Southwest Region to compete in the US Championships held in Houston, TX in July, four of the dancers selected to participate in the British Association of Teachers of Dance Scholarship Weekend in Seattle, WA (who qualified based on their excellence in dance technique and knowledge of theory during exams earlier this year), Shannon Holland, the winner of the Sword of the Rockies at the 2014 Rocky Mountain Highland Games and Hannah Gillette, the 2013-14 Chieftain's Dancer. In addition, the Southwest Regional representatives at the US Championship will perform a Championship Sword Dance.
Music for the dancing will be provided by a solo piper and there will be performances by members of the Scottish Fiddle Club of Colorado including Nat, Soquel and Squire Ross, Megan Rayl, Kelly O'Dea, Jack & Jay Golden, Lora Stevens and Ken McIntosh and by the Celtic band, Skean Dubh. With Sara Bautista as the primary coordinator of the local dance schools in preparing the choreographies for their schools and Mandy Bakulski assisting in teaching and coordination of the Grand Finale, it promises to be an enjoyable and lively afternoon.
Tickets for adults are $15 and children under 12 are $10 and may be purchased at the door or by sending an email to event@rmhd.org. Free parking is available in the PERA parking lot behind the Scottish Rite Temple on Pennsylvania Street.