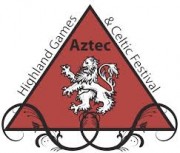 Irish-American Society of New Mexico will hold their monthly meeting Friday, Sept. 12th, 7:00 PM at the Edelweiss Am Rio Grande German-American Club (GAC), 4821 Menaul, NE (west of San Mateo) in Albuquerque. A Musical Performance Celtic music of Apple Mountain Strings and Things, an Albuquerque not-for-profit organization formed in 1996 to promote folk music and fun! Bimonthly club meetings provide a safe, casual environment in which beginning players can enjoy making music with others and hone their skills, and where players at all skill levels can enjoy well-loved folk tunes with new friends. The "strings and things" include mountain dulcimer, hammered dulcimer, folk harp, fiddle, cello, guitar, banjo, mandolin, bowed psaltery, bodhran, flute, recorder, and harmonica, plus the occasional spoons, kazoo, wash tub bass, bells and triangle! www.irishamericansociety-nm.com
Irish-American Society'sand the St. Andrew Scottish Society's Annual
Combined Family Picnic will take place at Elena Gallegos Picnic Area Kiwanis Reservation Area in Albuquerque, Sunday, September 14th, 2012 12:00 noon to 4 PM With Malarky and Musicians!
RSVP by September 10 to paul McDonough: penthormul@aol.com; 505-294-8205.
Corrales Harvest Festival, Sept. 27 and 28, in Corrales. Activities over the two days of the festival include a Fun Run, a Ditch Pony Promenade, free tours of Casa San Ysidro, a performance by the McTeggart School of Irish Dance, a bagpipe demonstration, art classes, a PetParade, a Growers Market, and a Hootenanny Dance. http://corralesharvestfestival.com
Early October: Aztec Highland Games & Celtic Festival, October 4 & 5, at Riverside Park in Aztec New Mexico. Includes the 1st Annual Four Corners Highland Games Regional Championship; Celtic music including the Wicked Tinkers; Scottish Dance Exhibitions, Bagpipe Band Exhibitions, children's activities, Clan Tents, food and merchandise vendors, and local beer and wine. Celebrate the culture of the Scottish Highlands with an American Southwest twist!
Cost: Free 12 and Under, Vary by event, $10,$15, $20
Info: Email: info@aztechighlandgames.com Phone: (505 716-3003 or (505) 419-7526