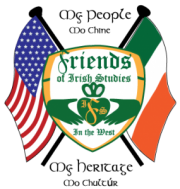 Ranganna Gaeilge is Ceoil – Irish language and Music Classes
An Ghaeilge – The Irish Language.
There will be an Irish language class for beginners starting at 6pm on Tuesday, September 2, in room 104 of the Liberal Arts building at the University of Montana. The course is offered for credit and is primarily for adult learners, but all are welcome. The teacher is Naoise Waldron from Kilkenny, Ireland, who also happens to be the hurling coach. Naoise is a wonderful teacher and brings a lot of good humour and fun to teaching the language. You will learn a lot from him, and totally enjoy doing so. The course runs for 15 weeks and costs $200. There is a further $135 recording fee for those wishing to do it for credit. It is sponsored by the Friends of Irish Studies, so all members may sign up for $175. For more information, contact Naoise at naoise45@gmail.com
Bunchúrsaí Gaeilge arlíne – Online Irish Language Course for Beginners
If you're would like take a Beginner's online interactive course in the Irish language, please contact Traolach at toriordain@hotmail.com. The course will be delivered using software that enables you to take the course in real time. A supplementary audio/visual package reviewing all the material covered in the course will be posted so you can review each week's class at your desk. The course is 12 weeks long and costs $150 for non-members and $120 for members of the Friends of Irish Studies.
An Fheadóg Stáin – The Tin Whistle
Are you interested in learning the play the tin whistle? Do you have children interested in playing this instrument? If so, then contact Clair Leonard at leonardsmt@msn.com. Clair has just returned from Ireland where she and her family attend the Tubbercurry music workshops for a week. The course is 10 weeks long and is sponsored by the Friends of Irish Studies. It costs $150 and $125 for members of the Friends. The cost covers an instructional packet that includes whistle, DVD and book.
An Veidhlín – The Fiddle
Eilis Keegan will join faculty at UM this fall as a Fulbright Irish language teacher. Along with her fine linguistic skills, Eilis is also a champion Irish fiddler who is interested in teaching and playing with musicians from the western fiddle tradition. If you are interested in doing a class with Eilis, please contact Traolach at toriordain@hotmail.com. We would like to put together a small class that will meet once a week. The time, location, duration of the course and all other details will be made available once we have an idea of the numbers interested.
…………………………………………………..
Club Iománaíochta – Hurling Club
Can you believe it? The minnows from Montana became the giant-slayers in New York last May at the National Championship. As newcomers to the competition, they were given no chance of winning the event. Everybody taught it was "nice" to have kids from Montana participate, it put a nice complexion on the event, made it look more national! But the Montana hurling team wasn't interested in making things look better; they went to make a statement, to let all know that Montana competes to win. And win they did, in such emphatic form that no one now is in any doubt that there are new kids on the block and that they are a force to be reckoned with. As a result, the national championship next year will not be in New York, Boston, or Chicago – it's going west to Washington Grizzly Stadium, Missoula, Montana. This is as it should be. Montana should be the national center of all things Irish; and it will be with your help. If you are interested in getting involved in the hurling team, as a player or supporter, please contact us at info@friendsofirishstudies.com
………………………………………………….
Turas ar Éirinn – Tour of Ireland
The Friends are planning their annual tour to Ireland at the moment. We have received numerous requests to visit different places, so we have decided to ask all those who are interested to send us a list of the top five places they would like to visit. The tour will be built around the most popular choice.
The tour is nine days long and will run from Sunday, June 14 to Tuesday, June 23. If you're interested, please contact Traolach at toriordain@hotmail.com
…………………………………………………….
Ballraíocht – Membership
Our president, John Monahan, has made increasing the membership the primary objective of his tenure. The members are the flesh and blood, the soul of our organization. From the membership comes that creative energy that has made the Friends such an dynamic organization. One can easily deduce from that statement that the greater the membership, the more creative, more innovative and more successful the Friends become in the pursuit of its objectives. So important is the membership that we have reduced the cost to $20 for an individual; $40 for a family; and $5 for a student. We invite you not only to join, but to invite family, friends or anybody who has an interest in Irish culture to become a member. Believe you me, you will not be disappointed. All new members will receive a specially designed pin with the Friends logo, an informational tri-fold, and a bumper sticker. If you are interested, please go to our website where you can sign up online. For those of you who prefer a more traditional route, you can email your membership application and check to: P.O. Box 4693, Missoula, MT. 59806.
…………………………………………………..
An Bailiú – The Gathering
The Gathering: Collected Oral Histories of the Irish in Montana is the only Irish Government sponsored oral history project in the entire United States. The location of the project in this state as opposed to any other is a testament to the prominent place Montana holds in the Irish mind. It was and remains one of the most Irish states in the Union and is home to the largest Irish Studies programs west of the Mississippi. Montana is certainly special, not simply because of its natural beauty, but also because it is home to remarkable community of people. It is the people who live who have made possible the creation of the Irish Studies program and made feasible the Gathering oral history project. Your story of love for your heritage is what the Gathering seeks to record. You can do this in a number of ways: you can pen your own account; or you can arrange to be interviewed. If you are interested in participating, please the Director of the Gathering, Bob O'Boyle, at bob@mtirishgathering.org.
Also, there is a writing project entitled "The Importance of Being Irish" that would welcome any contribution you may have about your Irish heritage, history or experience. This is a very important way of collecting people's thoughts on their identity. You'll find more information on the project at www.mtirishgathering.org. Please check out the site, share it with your friends, and put your thoughts on paper.
………………………………………….
An Crannchur – The Raffle
The raffle is back. I know many of you have been waiting with bated breath for this announcement, so it gives me great pleasure to inform you that tickets are now on sale. The prizes are 1) A trip for two to Ireland, 10-day car rental, and $1,000 spending money; 2) $1500 gas voucher; 3) $500 Visa gift card. All the proceeds of the raffle go to supporting the Irish Studies program and to promoting Irish culture in Montana. Tell all your family, friends, in-laws and outlaws about these great prizes and spread the joy. Also, we need people to help sell tickets. If you feel comfortable selling tickets to family and friends, please contact Traolach at toriordain@hotmail.com. A chance to win a trip to Ireland is a great gift and a great way of showing your appreciation to the people in your life for all they do.