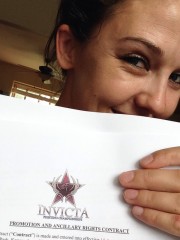 On August 27 Colorado's Maureen "Baby Face" Riordon announced on her blog that on August 19, 2014 she signed a multi-fight contract with the world's leading promotion in women's MMA, Invicta Fighting Championships.
According to Riordon, fighters who have fought for Invicta rave about how well they were taken care of during the event. "Invicta has become the goal of every female fighter worldwide" said Riordon, and added, "All this and more has had me walking around with butterflies and an immense amount of appreciation for the last week since the signing!"
Riordon recently made three profession debuts in three different combat sports(Kick Boxing, MMA, and Boxing) in less than four months. As of this writing there has not been any news on her next opponent or fight date, but she is anxious to get back in the action. "I can't wait for the opportunity to get in there and fight for such an esteemed promotion now also aired on UFC Fight Pass."www.maureenriordonmma.com
Log onto Maureen's blog, Facebook, or website and learn more about this positive role model, spunky fighter, and mother of 4 kidos!