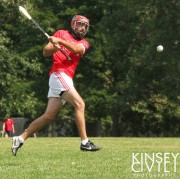 by Sam Westmoreland – - -
(Photos courtesy of Kinsey Civili Photography)
September is one of the busiest months of the year for the Denver Gaels, thanks in large part to a large number of club-wide events we've got going on.
First and foremost, we're thrilled to announce that we'll be sending 70 players to this year's North American County Board finals in Boston, where they'll compete for titles in three sports across four divisions: men's gaelic football, camogie, and men's junior B premier and junior c hurling. But while that may be the end of our competitive hurling (and wind sprints) for the year, that doesn't mean it's all we have going on this month.
We'll be watching the All Ireland Hurling Finals on Sunday, September 7, at 8 a.m. at Fado's Irish Pub, in downtown Denver. It costs $10 to get in and enjoy the craic and competition as Tipperary take on Kilkenny. We'll also be hosting an All-Ireland watch party for the Gaelic football finals, although the details there are still being finalized. Check the club's website or Facebook page for more info.
After the hurling is done, join us for our first raffle drawing at 1 p.m. at the Fainting Goat Pub. We'll be announcing the winners of our trip to Ireland, so don't be late!
Finally, be sure to keep an eye out for details on our fall hurling schedule, as we'll be having some matches to keep the rust from building up too much. It's a great chance to come see or try the fastest sport on grass, and will be a fantastic time.
With a busy calendar in September, the Gaels are hoping to keep our most successful year ever going in impressive fashion.
www.DenverGaels.com
Editor's note: Good luck to both the Denver Gaels who are sending so many teams to the Championships in Boston over Labor Day weekend, and to Colorado Fenians, who in there 2nd year are sending a hurling team to compete. If we hear any breaking news before press time we'll ad it here, if after press we will post on our Facebook page: www.facebook.com/celtic.rockies