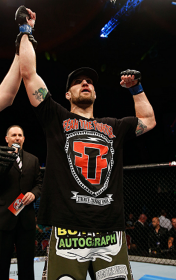 By Luke Henderson – - –
There are plenty of dreams that come out of the world of MMA and one such story is ready to unfold for one of Colorado's best and brightest fighters. Cody 'Donnybrook' Donovan will fight once more when he faces Nikita Krylov at UFC Fight Night 46, live in Dublin, Ireland on July 19, 2014.
"Fighting in Ireland has been a dream of mine since I started fighting. If you would have told me ten years ago that I would be fighting in the UFC in Ireland, I don't think I would have believed you," Donovan said.
The reigning Colorado Celtic Club, best Irish-American fighter in Colorado, Donovan is carrying a lot of expectations over to the Emerald Isle and the Colorado community that has embraced him thoroughly will be following closely as his dream comes true. But does all that attention bring more positives than pressure?
"More excitement for sure. I don't like to put negative pressure on myself. As fighters we are in a unique position because most people will never get the opportunity to step inside a cage and fight. Even less will get to do it on TV. So instead [the fans] can get excited and live vicariously through me and not get hurt," Donovan said with a laugh. "I love that, I love all the support and encouragement."
When reminded of the legendary ties Colorado has to fighting, with men like Jack Dempsey coming through and the Fitzgerald brothers boxing downtown, Donovan is quick to stay humble.
"Well although I am very honored to even be mentioned in the same sentence as Jack Dempsey, I've never actually thought about the Colorado legacy. I've just been fighting because it is something I love to do. Probably the same reason all the other guys you mentioned fought. Someone once told me 'If you love what you do, you'll never 'work' a day in your life'. I am truly blessed," Donovan said.
One of the most surprising things about Donovan is not just how popular he is here in Colorado and the United States at large, but the tremendous following he has in Ireland.
"The Irish fight fans have treated me like family. They have made me feel at home, and I haven't even been there yet! I'm blown away by the support. I'm going to feed off of it. I'm going to let all that positive energy fill me up, and then take it into battle with me," he said.
But while he is excited to put on a show for the land of his ancestors 'Donnybrook' isn't leaving behind the support he's grown used to in the Rocky Mountains.
"I will be taking all of the Colorado love and prayers with me into the fight and God-willing, I will take a win back home," Donovan said.
Fans looking to gather to watch Cody 'Donnybrook' Donovan's fight can do so at his official viewing party at Jackson's All American Sports Grill 7939 E. Arapahoe Rd. Englewood, CO 80112 at noon Denver time, on Saturday July 19. Fans can follow him on Twitter @donnybrookcody and buy his official Ireland fight shirt at www.ruckusapparel.com/shop/cody-donovan-ufc-dublin-t/
.
Also fighting in July…
Jason "The Dragon" Lee takes on Adam Stroup for the SCL Middleweight Championship Friday July 18th at the Douglas County Event center in Castle Rock. Tickets at www.spartacombatmma.com or call Jeff 729-933-6147.
Maureen "Babyface" Riordan fights on the RFA16 card at 1st Bank Center Fiday July 25. Get tickets at
Fusebox MMA in Westmenster 303 -875-4281 or VIP Tables at 303-5210966.