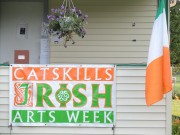 by Rodger Hara – - -
Almost home. There's part of Upstate New York that looks a bit like Ireland must have looked before the forests were all cleared. There are rolling hills, limestone cliffs, gentle streams and cleared fields. The similarities are such that it drew so many of the immigrants from the cities that it became known as the Irish Catskills. Today, there are many familiar sights; silos that echo round towers, dry stone walls made from stacked shale and well-tended tidy lawns that run to the verge of the road. And if you were in East Durham the week of July 13th, it would even have sounded like Ireland…
East Durham is a hamlet of the Town of Durham and is 30 minutes from Albany and 2 hours away from New York City. Founded in 1771, East Durham is also known as "The Emerald Isle of the Catskills" because of the influence and presence of the Irish there. That presence is manifest in the names of streets and businesses there – names like Kennedy Lane, Flynn Place, O'Brien Drive, O'Sullivan Road, Hibernian Road, the Blackthorne Inn and Resort, Gavin's Irish Country Inn, The Shannon View House, Shamrock House, Mooney's, McGrath's, the Our Lady of Knock Shrine, Lafferty Realty and the Michael J. Quill Irish Cultural Sports Centre.
It is one singular event each year though, that makes East Durham feel (and sound) more like East Galway: Catskills Irish Arts Week. Now in its 20th year, Catskills Irish Arts Week brings over 500 musical and dance students and 60 master musicians from across the country and across the sea to participate in the over 100 events during that week. Those events include two workshops a day for set and step dancing, sean nos steps, Irish waltz and partner dancing, fiddle, flute, whistle, button accordion, piano accompaniment, harmonica Uillean pipes, concertina, tenor banjo, guitar, harp, bodhrán, ceilidh band, ceilidh drums, Irish knitting and art, writing, language, singing and songwriting, nightly concerts and céilidh and thirty instrumental sessions and 4 singing sessions. Instructors this year included Robbie O'Conell, Aoife Clancy, Oisin MacDiarmida, Conal O'Grada, Willie Kelly, Caitlin Nic Grabham, Michael Tubridy, Billy McComiskey and the great Fermanagh man Cormac McConnell, famed for his columns in the Irish Voice and Irish Central and his anti-war song, "Silent Night – Christmas in the Trenches 1915". And for the children, there is a weeklong Tír Na Nóg Youth Program that offers immersion in Irish culture, history, stories, music, dance and arts and crafts.
The closest thing to which the Week can be compared is the Fleadh Cheoil na hÉireann and its regional precursors that bring together thousands of musicians and fans for immersion in the sounds of traditional music. The Week is so Irish that one of the sponsors is Cultúr Éireann, the department of the Irish government that promotes Irish arts worldwide.
Each of the session venues feels much like a pub at home, with a low ceiling, dark wood and small stage (if any at all). The sessions are just like those you'll find at a fleadh, with a wide range of ages and instruments in the crowd of players and listeners. The venue for the nightly concerts is a large, open-sided barn-like building with a stage at one end and a merchandise counter at the other that sells the many CD's of the musicians, the Festival t-shirts and food from home – Taytos, digestives, gobstoppers and nougats. And at the nightly céilidh in the Shamrock House, you'll find a typical band and dancers of all ages whirling around the floor.
Catskills Irish Arts Week seems to be the highlight of the year but is not the only event as there is a Memorial Day Festival, a Celtic Festival at nearby Hunter Mountain in August, the East Durham Irish Feis Weekend the end of August and Gavin's Annual Guinness Fest in October that this year will feature Derek Warfield and the Young Wolfetones.
To learn more about Catskills Irish Arts Week – and perhaps start planning a trip to New York next summer – go to www.catshillsirishartsweek.com.
Travel There Sidebar
If you go to New York and make it to the City, be sure to visit Molly Bloom's, the new pub opened in Queens by Ciaran Staunton, Founder and President of the Irish Lobby for Immigration Reform. It's a short ride on the 7 Train to 43rd St. in Queens and he'll be pleased to see you. He visited Denver a few years ago to promote the ILIR and visit old friends. He and his wife Orlaith (former publisher of the Irish Voice in the City) tragically lost their 12 year-old son Rory to complications resulting from sepsis two years ago and began a foundation in his name. The foundation's mission is "… to support education and outreach efforts aimed at rapid diagnosis and treatment of sepsis, particularly in children."
And if you're lucky enough to be there when an Irish play is on stage on or off Broadway, be sure to catch it. For example, "Once", the Tony-award winning musical set in Dublin continues its long run, the revival of Martin McDonagh's "The Cripple of Inishmaan" starring Daniel Radcliffe of Harry Potter fame just closed last month and John Patrick Shanley's "Outside Mullingar" ran earlier this year.
Finally, if your travels take you to Times Square, lower your eyes from the neon lights long enough to appreciate the statues erected there of Father Francis P. Duffy who was Chaplain to the 69th Infantry Regiment (the "Fighting Irish") during WWI and George M. Cohan, the singer song writer who published over 300 songs. Around the corner from Times Square, in front of the Port Authority Bus Terminal, you can also see the statue of Jackie Gleason whose mother was born in Cork. These statues pay permanent homage to the impact of the Irish on the City and beyond.
And then there are all those pubs…