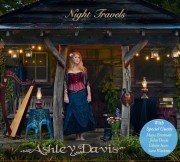 (Celtic Connection, June, 2014)
CR "Night Travels" is an interesting and compelling group of songs that seem to incorporate the idea of the dreaming and the nighttime wrapped up in true and not always true love.
AD "I didn't set out to write an album about dreaming, whether it is nighttime dreaming or daytime dreaming. But whatever I was going through when I was writing this—I was having a lot of very vivid dreams and daydreaming quite a bit over the year of writing it, so that obviously infused into the writing".
"I was out in LA in the middle of the project and sitting down with a childhood friend and I said, 'I gotta get a title for this album', and she said, 'Of the stuff I've heard so far, there seems to be this theme of dreams that keeps coming through this. So it should be something about dreaming'. So that was the first time I realized I'd put together a work that was primarily about dreaming themes throughout it as well as the primary theme of love. Which is of course, it not an unusual thing for me to be writing about. Nighttime and dreaming continually showed up.
I try to write a little epilogue at the end of my albums, and when I was writing that, and was studying some of the old authors and poets to see what they had to say about dreaming. Everybody from Poe to Shakespeare thought about this quite a bit—dreams and how they shape our lives and affect our lives. And how our awake dreams were just as important as our nighttime dreams. One author, whose name I can't recall at the moment, said, "It is through dreaming and writing that I finally found myself". And that's sort of how I felt about the writing of this album".
CR I think this is just a superb, very mature, very dense and complete body of work that is beautifully restrained. In a way that actually amplifies the song.
In terms of arranging, it was exquisite in the fact that less was more. You had stellar musicians, you have an extraordinary voice and you write complex lyrics. The temptation to overproduce to me would have been pretty large.
AD That's something that Gawain Mathews (co-producer) and I concentrate on. We both like a very clean sound. We edit one another quite a bit in studio. It's really standing back and going, "Do we need that?" and muting it and seeing if we miss it or not. That was the acid test. A lot of the tracks had instruments that we recorded on there and then didn't use. We muted them and didn't miss them. The song still stood on it's own. We want the song to shine through more than anything with clean, pristine musicianship.
We were ironically, however, also making the sound a bit bigger, to make it more movie soundtrack friendly at the same time. I'm glad we were able to make it simpler, but bigger, if you will".
CR Obviously, when you have musicians like Eileen Ivers, Moya Brennan, John Doyle and the like, you want to make use of them, but they almost can become as much a focus as the song, which to my ears did not happen. For example on "His Bride I'll Be", I was listening to the album for the first time as I always do, while working at something else. And I realized I was hearing this very low, delicate harp bringing me into the song but not overtaking it.
AD "I love doing collaborations—I write for the collaborations. I'm wrote that piece specifically for Moya. That's why the piece sounds way more Moya Brennan than any other cut on the album. In each of those cases, it was a song specifically crafted around that person. I hope that's why it's easier for them to tuck in to it rather than just playing on it.
"With You Tonight" with Eileen Ivers–I wrote that one in New York city and was thinking completely about the pulse of New York and the sessions that happen in New York and Eileen's fiddle playing. So I wove it around that traditional Irish jig and felt her winding around me as I sing the lines".
CR I love the way you incorporate "The Butterfly" slip jig into that song!
That was a cut I made a note about because you have this nice little tune starting the song and the song weaves in and out of it. I have many favorites on this album, but this one really stuck its head up.
AD I was so happy when I sent it to Eileen, as it didn't have her fiddle on it yet, but she said, "I love this". It's like a dress designer designing for a famous actress and then sending out the dress and hoping that she'll wear it at some event and like it. So when you craft something like that, you hope for that reaction".
CR I think one of the great accomplishments of this album is cementing your stature as a songwriter. All of these pieces (except Barbara Allen) are original. All are different and at the same time, many are ageless. They could be Child Ballads or an old timey ballad from 200 years ago.
Let's take for example, a bit from "His Bride I'll Be"
He took my hand one gentle summer
He named each flower that grows for me
But we were pledged to another
But on this night his bride I'll be
Braid my hair my tender maidens
The wind is strong and fast we'll ride
To a place where love is endless
So that I might be his bride
The lantern shone like a star of heaven
And with it's light oh I did ride
Into the arms of my lover
So that I might be his bride
Or your song, "The Blackest Crow"
The blackest crow that ever flew
Would surely turn to white
If ever I prove false to you
Bright day will turn to night
Bright day would turn to night my love
The elements will mourn
If ever I prove false to you
The seas will rage and burn
I wish my breast were made of glass
Wherein you might behold
Upon my heart your name lies wrote
In letters made of gold
AD "I never sit down to write eleven tracks. I write it over the course of a year or so. It takes that long to get each track exactly where I want it to be, then I move on to the next one. I never write two songs together, ever. At one point in Dublin, I was in a bit of a panic. because I don't write them at the same time. I might be in a different head space or heart space at a different song's point in time. I worried about whether they would all live together".
CR How has the feedback been?
AD "Phenomenal. Both from peers and fans. Across the board they've been saying, "It's your best". And that, of course, is the goal—to always get better. You don't want people saying, wow, your second album (of ten) was really your best one! (laughing). The common thing I'm hearing is they like the sound, the arrangement and the writing. The thing I am most grateful for is that the critics say my voice matches my writing perfectly. That is what I wanted to accomplish—as well as with the people I'm singing with. For example on the Moya duet, that's really up in Moya's register. It's not an area I hang out in a lot. I have the ability to, but it was fun because it showed a different color to my voice as well, so it allowed me to do some different things with my voice I haven't done before".
CR This song is brilliant in its simplicity and does really suit the sort of atmospheric Moya landscape. I really like how you turn it into a hymn of rounds:
When you are gone and I am here
Hold my heart beside you near
When you are gone and I am here
Hold my heart beside you near
I will sing your name at night
Sleep the fields in wandering light
I will sing your name at night
I will sail the seas so high
Search the winds the clouds the sky
I will sail the seas so high
Search the winds the clouds the sky
I will sing your name at night
Sleep the fields in wandering light
I will sing your name at night
CR You have a who's who of musicians on this release, John Doyle, Moya Brennan, Eileen Ivers, Máire Breatnach, Cormac DeBarra, etc.
AD "I've been blessed that the people within the Celtic genre have liked what I've done and are interested in what I am doing. When people want to work with you, that's the highest compliment you can get. Knowing that I'm doing something different helps too".
CR I agree. I think you'll be the songwriter that singers are going to go to when they want to find a new song.
AD "My songwriting is the thing I work the hardest on and am constantly being influenced in so many different directions. It is what I would like to be known for above any other talents".
Night Travels is out on Daisy Rings Music. www.daisyrings.com