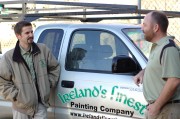 A residential and commercial paining company isn't the first company you would think to be spearheading a charity initiative that gives away an important, but often overlooked, chore that can truly change a person's disposition and attitude. But that is what is happening at Ireland's Finest Painting Company Inc. "We know that a person's house isn't just a place to hang their hat," says Valerie Moore, Office Manager. "A person's house needs to be a clean and comfortable place for them to be proud of, share time with their family and recharge their batteries. Unfortunately, there are many people out there that cannot afford to maintain their homes because of employment problems or financial challenges." It is this reason that Ireland's Finest holds a contest every spring to give away a free house painting to those in need.
Started three years ago by Ireland's Finest's owner Andrew Toole, the Hard Times Soft Hearts contest collects nominations from the Denver community of worthy candidates. These nominees can be people or businesses that are going through some tough circumstances in their lives or choose to spend their own money helping others thus sacrificing creature comforts. Partnering with Benjamin Moore, Ireland's Finest provides the equipment and labor with Benjamin Moore donating the paint and supplies. In addition to a great paint job, they also make minor repairs to the home or business that can include carpentry, drywall and power washing.
"We treat this charity project just like we would any other customer," says Ben Reder, Lead Estimator. "We pride ourselves on providing a quality, long lasting job no matter what the circumstances. We want each year's winner to have a paint job that they can be proud of and will last them for years."
Inspired by the TV show Home Makeover, Hard Times Soft Hearts is a labor of love for the Ireland's Finest and Benjamin Moore duo. Although there are many worthy charities that really make a difference, the reason for spear heading their own was a conscious choice by owner, Toole. "We could have put together a charity event, raised a bunch of money and donated it to a local organization, but we wanted to work directly with these people that are in need or sacrifice their own dreams to help their communities," Toole says. "It is that type of interaction that shows us we are really making an impact in someone's life that could really help them turnaround their situation."
Andrew, who hails from County Meath in Ireland, and a few friends caught the entrepreneurial bug and started a business, Ireland's Finest Painting Company in 1995. As with most small businesses, they initially struggled to get Ireland's Finest established and fought tooth and nail for every job they won, so Toole is no stranger to struggling both professionally and personally. It is this empathy that was the foundation of the Hard Times Soft Hearts contest. Andrew's partners have since moved on to different endeavors, but Andrew continues to lead Ireland's Finest and makes it the success it is today.
Hard Times Soft Hearts will accept nominations through June 30th, 2014 on the Ireland's Finest website at www.irelandsfinestinc.com. The actual painting of the winner's house will take place in the fall of 2014.