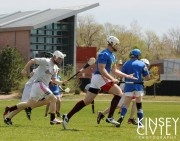 By Sam Westmoreland – - – (photo by Kinsey Civili)
We're at the mid-way point of the hurling pub league season with five games down already, and the Friday night Gaelic Football League has recently kicked off its 3rd year.
In the hurling league, The Fainting Goat lead the race with four wins in their first five matches, giving them a three-point advantage over second place Dougherty's, who sit at 3-2. The Celtic Tavern sit third, at 2-3, while The Irish Rover recently got their first win of the season to move to 1-4 in fourth place.
May also saw our Men's teams travel to tournaments in Chicago and Dallas.
On May 17th, the Gaels' Junior C hurlers traveled to Chicago for a tournament against the Michael Cusack Hurling Club of Chicago and the Naperville Hurling Club. The hurlers won 2 and lost 2, with only one unnamed player collecting a yellow card on the weekend.
On that same weekend, our men's Gaelic Football team traveled to Dallas for two matches against hosts Fionn MacCummhaill's GAA Club. The squad split their two matches with Dallas, with Ron Miller scoring a deciding goal late in one match. The GAA has grown by leaps and bounds in Texas and a split was a very good result for our footballers just starting their season.
Travel has been a big focus this year and will continue into June, as the Rogue Camogs will travel to Atlanta at the start of the month. These travel tournaments give our teams the opportunity to gain valuable experience against other clubs prior to September's trip to Boston for the NACB championships. Win or lose, these sorts of matches, coupled with our tournament at the Colorado Irish Festival are valuable learning experiences for our teams.
For June, the hurling pub league will resume for the final stretch before we crown a pub league champion at the Colorado Irish Festival. The Gaelic Football season will be in full stride, each Friday evening at the practice field at Infinity Park Glendale. We'll also be hosting a World Cup watch party when Team USA takes on Portugal on Saturday, June 22. We've got a busy month coming down the pipe, and we're looking forward to continuing our march towards Boston!