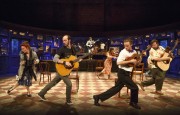 By Rodger Hara – - –
Colorado audiences have had the privilege of seeing and hearing Dubliner Glen Hansard many times during his tenure with The Frames that began in 1990; most recently in 2005 when they played at the Bluebird Theater. And after the success of the music from Once, Hansard and his co-star Markéta Irglová have appeared as The Swell Season on stage at the Ogden Theater in 2007 and the Ellie Caulkins Opera House and the Telluride Bluegrass Festival in 2008.
The film, written and directed by former Frames bass player John Carney in 2006 with additional input from Hansard and Irglová, made it to the Sundance Film Festival almost by accident in January 2007 where it won the World Cinema Audience award in the Dramatic category and the title song written by Hansard and Irglová won the Oscar for best song in 2007. Hansard wasn't even Carney's first choice to play the male lead, known only as "The Busker" and was looking for an older woman to play the female lead, "The Girl"; when Carney's choice dropped out, he turned to his old friend Hansard who recommended the 19 year-old Irglová, daughter of a Czechoslovakian friend, for the part and the rest is movie, music and theatre history: How three friends armed with a few songs and a bit of a script made a low-budget ($160,000) film that earned over $7 million in its first three months of world-wide release, wins the Oscar for best song, then is turned into a multiple-Tony-award winning musical on Broadway that also wins a Grammy for Best Musical Theatre Album.
And if all of that isn't enough, there's a touch of James Bond to the story as well: Barbara Broccoli, producer of the last six James Bond films, acquired the stage production rights to the movie and approached Englishman John Tiffany to recreate it on stage. Tiffany's initial reaction was, to say the least, unenthusiastic. "I thought it was a terrible idea. I never think about adapting films for the stage. That's not the way I work. And when I was approached about Once, I hadn't even seen the film. But one of my best friends said, 'You will love the music.' So I downloaded the soundtrack, and absolutely loved it. I'd never heard music like that, and the music is the reason why I wanted to do the show. Not just the music itself, but the fact that it's a story about creating music, a story about the healing power of music. Immediately I thought, 'We're going to be able to see actors create that music in front of us.' That's really exciting. Actors have played instruments onstage for years, but not always in a show about making music."
From that beginning, Tiffany then suggested to the producers that Dubliner Enda Walsh write the book for the play, saying "We've known each other since 1997, when we were working in Edinburgh. I felt that if you're going to do a piece of theater about Dublin, then you get Enda Walsh from Dublin to write it."
Walsh had much the same initial reaction as Tiffany. "I guffawed when my agent called and asked me to speak to the producers. I said, 'What a stupid idea. It's a two-hander with very little plot. It's delicate.' So I called the producers and told them it wasn't for me. There's no tradition of musical theater in Ireland, so I rubbished the idea. Then they told me John Tiffany was attached to it as director."
The two spoke and decided to closet themselves for two days to read the screenplay, listen to the songs and talk about how it might work. At the end of the two days they concluded that they wanted to do the show. Walsh thought that with the Irish people hurting from the recession it would be "…sweet to do a little love letter to Dublin."
They ultimately decided to set the show in a Dublin pub and to also include music played by stage characters who weren't musicians in the film. They retained the songs from the film although in a somewhat different order and occasionally with modified arrangements. Martin Lowe, who did the orchestration for the show, observed that "The songs feel just a little bit bigger than they did in the movie. That's unusual; it's the movies that are always bigger. But the most musicians on any number in the movie is five. We've got 12 onstage, although they're not all playing all the time. Often, we have three or four guitars playing at any one time. We also use ukuleles, mandolins, strings, drums, an accordion, and a banjo. The banjo is in quite a lot of the songs because one of the actors wanted to learn it." And just like a session in your local, there are different people who start and stop the different tunes depending on who is on stage at the moment. To close the musical loop, Hansard and Irglová visited the show while it was in development off-Broadway, made some fine-tuning suggestions and then gave it their blessing.
When asked why he thought Once was so successful as a film and a stage musical, Tiffany said "I think what's very moving about the piece is how sometimes we meet people who we don't necessarily stay with forever, but they give us the resources to move on to the next part of our life. There's something very truthful in that. People have said to me, 'When I was sitting in the theater watching Once, I felt like I was watching it with everyone I've ever loved, whether or not they're still in my life.'"
Featuring a multi-talented touring cast that sings, dances and plays their own instruments, Denver theatre-goers will be able to see for themselves that Once deserves the eight Tony awards it received including those for Best Musical, Best Direction of a Musical (John Tiffany), Best Book (Enda Walsh), and Best Orchestrations (Martin Lowe) . Once plays at the Buell Theater in the Denver Performing Arts Complex May 6-18; performance times are Tuesday-Sunday at 7:30 PM and 2 PM on Saturdays and Sundays. Tickets and information at http://www.denvercenter.org/buy-tickets/shows/once/about.aspx or call 303.893.4100, 800.641.1222 or TTY: 303.893.9582.
Photos courtesy of Denver Center Attractions, © Joan Marcus