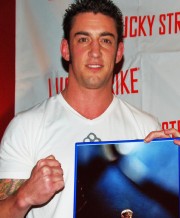 By Luke Henderson —
(photos: Canaan Grigsby above; Jason Clayton below)
Two of Colorado's fighting Irish community, Jason Clayton (7-4) and Canaan Grigsby (2-1), are set to face off in separate matches this month on the Fight to Win MMA, 'Animals' card. Both men are veterans of the local fighting scene and were nominees for the 2013 Celtic 'Club' award.
Grand Junction's Jason Clayton will be facing Cody Mumma (5-1) in the co-main event of the evening. It might be an uphill battle for the Celtic Clayton, who will be looking to rebound from two straight losses. His fight is against a very tough Mumma who has won five straight since losing in 2012.
Clayton knows the fight is a tough one, but that's the only kind he likes.
"I want to fight the best fighters every time I step in the cage. It is about testing myself and my discipline. I truly love the competition part of this sport," Clayton said.
He hopes The Celtic Connection readers will turn out to support him in Denver.
"I'm mainly Irish and Indian. Both very proud heritages. I just seem to identify more with the Irish side. I genuinely love fighting and it just seems to be a natural part of that heritage. People should come out and watch this fight to show support for all fighters involved. Most importantly to see two great, talented fighters test their skills," Clayton said.
While fight fans are excited about the Clayton/Mumma match, tongues are wagging for the grudge match of the year when Canaan 'The Super Beast' Grigsby collides with Jeremiah Talley (1-1). A considerable amount of bad blood exists between the two men and a war of words has gone on stretching back to 2013. Grigsby, a fan favorite firebrand of a fighter, credits his toughness to his heritage.
"I'm from hardworking people. My grandparents worked their asses off to make it and give life to our family and that means something to me. My grandmother actually 'homesteaded' her property so yeah we are a people of this earth and whether we were born in Ireland like my great grandparents and great-great grandparents, or born right here on this Native-American land, I am honored to carry my last name," Grigsby said.
Two more of Colorado's Irish-American community are set to display their skills on April 18 at the National Western Complex in Denver. To support these fighters you can purchase tickets through www.fighttowinmma.com. Scheduled 12 Fight card to begin at 7PM.