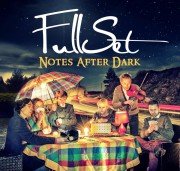 Those fortunate enough to have seen Full Set perform live in 2012 at the Spanish Peaks Celtic Festival, were blown to bits.. I am sure I saw bits of eyeballs rolling down the street after they had popped out of many heads. Their energy, drive, masterful playing as well as their respect for the tradition was both heady and glorious. They have it all—great musicianship, deadly vocals, great selection of tunes. Full Set are the real deal! It has been a long while since I have been so impressed by a group and am looking forward to hearing them again if I can just find my eyeballs!
In anticipation of their return to Colorado for two gigs in February, I spoke with Michael Harrison, fiddle player for Full Set from his home in Ireland:
CR–Tell us about the new album. It's been getting rave reviews and I understand why, as I just received it a few days ago and can't take it off the CD player!
MH—It's called "Notes After Dark" and features lots of songs and tunes. There is a great mix, with some original work as well. We were very happy with the finished product and it appears to be going down very well!
CR—You are definitely an interesting and eclectic group. I am sure you are the only group who has an uillean pipe player that has also won the All-Ireland but comes from Italy!
MH–Yes, it is quite unique. Martino Vacca moved to Ireland in 2006 and studied music at the Irish World Music Centre at the University of Limerick and got his degree there in music performance. He is a great addition to the group—he adds a lot of color to our music and its great to have that!
CR—The whole group is brilliant—everyone is a master of their instrument (fiddle, flute, bodhran, uillean pipes, vocals, guitar, accordion). Teresa Horgan has gorgeous vocals and the mix of tunes is both familiar and eclectic. One of the tunes that really caught my ear on first listen, was one of your original tunes, "Sleepy Ned of Newport". How did that tune come about?
MH—I wrote that one a few years ago. It is a slower tune of the set with the second being called "The Ginger Nut". I told Eamonn Moloney the bodhran player that I'd name the tune after him as a birthday present. I was only joking, but he took it seriously! He has this talent for falling asleep anywhere, really, so that's how that one came about.
CR—So were you eating a package of "Ginger Nuts" (an Irish ginger cookie) when you wrote the second tune??
MH—Well, my mother has ginger coloured hair and is a bit nutty, so I said I'd call it that. People can have their own take on it, but I named it after my mom, anyway.
CR—Well it is a more noble story than a package of cookies! People don't like to be labeled or put into boxes but its hard not compare bands when you hear their music. Who are some of your influences? I hear flashes of Bothy Band, Arcady, Altan…. You have your own distinct identity, but there are resonances of these other bands.
MH—Its funny you should mention Arcady because the fiddle player in that group, Brendan Larrissey was my fiddle teacher, so I suppose his take on Irish music might have influenced my playing. But we all have different influences and we all come from different places—Dublin, Cork, East Galway, Tipperary…..Italy!!!, so they all bring their own influences with them. Different areas have different styles and we just see what comes out of them. We like to keep a strong hold on the traditional, you know? We like to have a bit of a modern edge as well for a bit of variety, but we like to hold on to our roots and not go too far away from them. Having said that, there's jigs and reels, but there are other things we like to challenge ourselves with that we find entertaining and want to put our own take on it—like a set that is a ragtime piece, called "Reindeer Rag"—we also have an old American folk song, "Roseville Fair".. If there is something we like, we'll try it and put our own take on it and see how it goes.
CR—Its so funny you brought those songs up, because I was going to ask you about those, but before I do, you mentioned that "Sleepy Ned of Newport" was a slow tune in almost an apologetic way. It is very easy to get excited about very fast tunes that are flat out—the enthusiasm, the drive, the energy–but it is much harder, I think for a slow tune to reach out and grab your ear. I think it says a lot about being able to do that with a slow tune. I loved "Reindeer Rag", because it really fits—it blends well into the Irish way of playing. I think Kris Drever and Eamonn Coyne have done it best—bringing in tunes or songs from the 20's and 30's into some of their work and it is fantastic!!! A couple of people are starting to do it—and this is a great example of why it works! The future of the music is going to be songs from the 20's and 30's!
MH—Well, Irish tunes have come from hundreds of years ago, and everyone had their own take on it then. There is a lot of freedom within Irish music—the ability to twist it a bit and make it your own, and I think ragtime has some of that same freedom in it as well. I also think the same can be said of Bluegrass and Jazz— you can twist it around a bit the same as Irish music. It is nice to have something different as well that appeals to us as well as the listeners. It suited our sound, but it was a bit of a risk to do. However, we're very proud of it at the end. It is that piece that could stand out like a sore thumb, but hopefully we managed to make it synchronize in with everything else.
CR—Well its nice to see something different and also some original pieces as well. You do great traditional tunes and songs—"Both Sides The Tweed" is fantastic and "Roseville Fair" is also excellent. But many have recorded the same songs. I do believe that you have put your mark on them to very good effect. But don't ever give up on the "new and different" if you can make it work as well as it has on this album. It has a variety to it that enables a wide audience to grab hold of it. People will now have a chance to hear you guys live in both Denver and Colorado Springs—are you looking forward to coming back to Colorado?
MH–We performed in Colorado with Pat McCullough's help at the Spanish Peaks Celtic Festival in 2012 and we just loved the scenery, the music and the people. We are really looking forward to coming back to Colorado!!! Its going to be a great show—we try to get the audience involved—but at the same time it will be a great bit of fun and a way to start the St. Patrick's day season in style!!!
CR—Well with a February 15 and 16 show, it will be a little bit St. Valentine's Day and a little bit St. Patrick's Day. Two saints for the price of one!!!
MH—We'll even do some love songs especially for the night and maybe we'll get a slow dance or two out of it as well!! (laughing)
Full Set will perform Saturday February 15, 8pm at the Soiled Dove ( www.soileddove.com ) in Denver and a 3pm matinee Sunday February 14 at Stargazers Theatre ( www.stargazerstheatre.com )
(February 2014 Celtic Connection – published Denver Colorado)