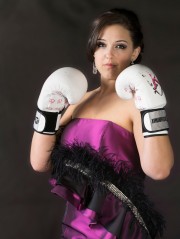 By Luke Henderson – - Photo: "Images By Blair" – -
One iteration of the Riordon family crest features trees, lions and hands holding daggers. A quick glance and it inspires strength, courage and beauty. The same can be said for Colorado fighter Maureen 'Baby Face' Riordon. Riordon, out of Fusboxe MMA in Westminster, will make her 2014 return in January, not in the MMA cage, but the boxing ring. "I'm interested in seeing what kind of a foothold I can establish in both the MMA and boxing worlds. I'm a competitor through and through and am excited to just be able to have the opportunity to compete," Riordon said.
While she has had one boxing match previously, she still has to adjust to preparing for a fight after such an extensive MMA career. "Training is definitely different. The approach to the stance, head movement, and preferred combos is all different. I thought it would be an easy transition, but it's actually been quite the fun project. Which I'm glad for. I wouldn't want to disrespect anyone's chosen sport by thinking I can just prance on in with ease," Riordon said.
As of late, nothing has come easy for Riordon. In October of 2012 she broke a metacarpal in half and was sidelined until February of 2013 when she was injured again during camp and had to get a second surgery. "But I'm finally recovered, finished with rehab, and am coming back in swinging. Cheesy pun completely intended." Riordon said. It's that sort of fun attitude that has drawn fans to her while she herself has been drawn to her Irish heritage through an unconventional path. "Actually, I'm adopted," Riordon said with a laugh. "Maureen Megan Riordon, I was very obviously adopted into an Irish family. I've always been a huge daddy's girl, so I always took a lot of pride in claiming his Irish heritage." Irish by choice, if not by birth, Riordon still brings the fighting spirit of the people with her, and on January 25, at the Red Lion Hotel off 225 and Parker, she'll put that spirit on display for the Airtight Promotions boxing event. Her MMA return is scheduled for March of 2014, and will feature a bout that relights a classic battle of heritages. "After this I jump right back into camp again, which is how I prefer to train. Eyes always firmly on a goal, and yes, that will be MMA again. This time against London's own, 2-0, Lisa McCallum," Riordon said.
Two matches in the first quarter of 2014 for Riordon means two chances to see her in action. While this mother of four admits to being too humble to give herself much acclaim, she thinks fans will get their money's worth when they come to see her. "Well, I don't stop. There haven't been, and never will be, an anticlimactic fight in my career. If there's not a finish, then the entire fight is action packed. There's no dancing around on the outside of the ring being unsure of myself. I'm going to bring my best to that ring, and expect no less from my opponent. If I see the knock out shot, I'm taking it," Riordon said.
2014 will feature the return of one of Colorado's favorite female fighters. Her plans involve boxing, MMA and a return to the success she had been enjoying before her injuries. While her body may have be in need of repair, her fighting spirit has ever burned within and this coming year will provide ample opportunity to see that on display.
You can follow Maureen on Twitter @babyfacemma, or go to her Facebook fan page at https://www.facebook.com/MaureenBabyFaceRiordon.