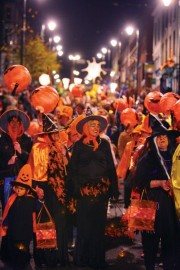 It's a truism, I know, but there really is never a bad time to go to Ireland. From now until the end of spring 2014 is what is sometimes, slightly misleadingly, called the 'offseason.' Think about that for a second. The off season in most destinations means most things are closed or closed for most of the time. Not so in Ireland. If there is an 'on-season,' it is the summer months. June, July and August are peak months because families can visit without having to take their kids out of school. It is also the time when families typically plan their annual holiday. In Ireland however, especially in the cities, all the attractions and reasons to visit are open all year round, vibrant and fulfilling as ever. The craic is the same in October, November or February as it is in July.
As an off-season holiday maker, your interaction with the people of Ireland and with Ireland itself will be largely the same as if you were going during the summer. If you are able to visit Ireland during the 'off season' you are in luck. For one thing there are a lot less crowds at the places you might visit. It is much
easier to play a round of golf at one of the top courses, for example. If you go to a museum, gallery or show, there will be shorter lines and the whole experience becomes more comfortable for that. In
the restaurants and bars, the staff and other customers have a lot more time to spend with visitors.
Ireland is a country that in some ways still runs very much in accordance with the rhythm of the seasons. Summer is a busy time. Farmers and city folk alike work hard through the summer months. Even the
national sports of hurling and Gaelic football see their seasons rise to a crescendo in July and August with both Championship games taking place in September. The autumn is a time when the pressure abates a wee bit for many Irish people and as a result they have more opportunity for relaxation
and leisure, and lots of time for themselves and their visitors. You'll notice the change of pace, I promise, and it's a 'good thing.' Something else you'll notice, and benefit from, is the fact that the price of everything goes down this time of year.
A return flight from Denver International Airport, if you can book a couple of weeks or more in advance, can generally be had for somewhere around $825 – $900. It pays to do a bit of research before you buy, but this is far less than a return trip taken during the summer months. (Note to reader: If you are thinking of going at Christmas you can still get a really good deal but you probably should start looking around as soon as you know your dates). The same goes for accommodation. Hotels (and hotels in Ireland were rated by hotels.com as being the cheapest in Europe) are always better value in the fall and spring. It's simple economics, less demand more supply. Similarly Bed and Breakfast accommodation. You can figure all this out for yourself of course, a good place to start is www.ireland.com. Alternatively there are a host of high quality tour operators that take advantage of these lower prices and combine
them with the preferential rates they already get to come up with some spectacularly good value holiday itineraries. And don't be scared about the weather. Ireland is the beneficiary of the warm Gulf Stream that laps it's southern and western shorelines and creates one of the most equable climates in the world. Temperatures stay warm well past the summer months. In fact, in many years October can be as nice as July. Either way, it never gets too hot or too cold.
There are plenty of reasons to visit Ireland during the 'off-season.' For example, what better place to be for Halloween than in Ireland, the place where it all started? Halloween has its origins in the ancient Celtic festival of Samhain, the biggest and most significant holiday of the Celtic year. The Celts believed that during Samhain the ghosts of the dead were able to mingle with the living. Samhain came at the end of the Celtic circle of life and as such marked the end of the old year and the beginning of the new one. In a country that was almost entirely pastoral it was a time when crops were stored and livestock
secured for the winter. This ancient rhythm of life still manifests itself in Ireland, not entirely buried beneath the bustle of modernity, and is one of the country's great charms. There are Halloween
festivals and events in many Irish villages, towns and cities.
Then there is Christmas, Nollaig. Christmas is definitely not just a 24 hour event in Ireland. Most people get at least a couple of weeks off and the feast is celebrated right through the New Year, just as it should be. Some Christmas traditions literally go back centuries and they make Christmas in Ireland a unique
and unforgettable experience.
And it is not too early to think about St Patrick's Day 2014. The last few years have seen parades and festivals in all the major cities and towns get bigger, brighter and better.
Ireland is a fantastic destination for a holiday any time of year. The fall and spring bring their own pleasures and advantages, and can offer a very different perspective to the visitor. Combine this with
the exceptional value to be had during these times of year and easier access to most of the
things you might want to see and do and you can see why 'off-season' might be the best
season of all.
If you are thinking of going to Ireland, any time of year, a great place to start planning
your vacation is www.ireland.com