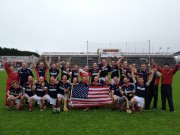 Aer Lingus International Hurling Festival took place in Galway September 18-21 as part of the Gathering 2013 initiative. Teams from all over the world were invited to compete in Irelands' National sport in the first ever International Hurling Festival – there was only one catch, you could not be Irish!
The Denver Gaels were one of sixteen international teams that sent some of their non-Irish born players to compete. They combined with members of the Indianapolis team and competed in the Junior B Division as "Denver/Indy."
As the American born players were preparing to depart for Ireland they received words of encouragement from Shay Dunn, fellow player, coach, and one of the founders of the Denver Gaels.
"Lads , as you head to the tournament in Galway, think about who you represent…..The Denver Gaels introduced the wonderful sports of Gaelic Football, Hurling and Camogie to the Rocky Mountain Region over 17 years ago and have instilled the love of these games in so many. Literally hundreds of people have played for the Denver Gaels and to a man and woman they wore that Jersey with pride! There are about 120 more team mates you leave behind who will be cheering you on, who will be there with you in spirit as you represent not just the Gaels but the USA. They have helped you train, compete and get to where you are today. They will be watching the web and Facebook every day looking for news of your exploits and along with Indianapolis they know you will leave it all on the field and make everyone on the team and your families very, very, proud!"
Shay's words surely hit the mark, as Denver/Indy beat the Argentina (Buenos Aires) team in the final to win their division Championship! They had beat Argentina earlier in the tournament, as well as teams from Europe and Barleyhouse/Allentown on the road their championship. Congratulations Denver for competing in the purest sense and making us all proud!