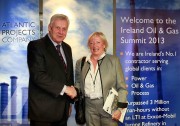 (photo: Irish Government Minister Fergus O'Dowd & Susan Morrice pictured at the recent Ireland Oil and Gas 2013 Summit)
The Ireland Oil and Gas 2013 Summit held in Dublin September 10-11 was the first of its' kind in Ireland, and based on its' success, plans are moving forward to make it an annual event. The all-encompassing agenda for the two day Summit covered key areas of the oil and gas industry such as the exploratory advancements, investment opportunities, operational challenges and updates on the regulations that affect exploration of onshore and offshore regions.
The event website Irelandssummit.com said, "This Summit comes at an exciting time for the regions' industry, with the announcement that oil with commercial potential has been found offshore."
Attendees at the inaugural Summit included Fergus O'Dowd TD, Minister of State, Dept of Communications, Energy & Natural Resources and Environment. Chairing the Summit was Susan Morrice, Chairperson of Belize Natural Energy (BNE). Susan is a native of Belfast, but now living in Colorado, she was asked to speak on the successful business application of the EDUCO Holistic Energy Model.
After the summit, Oil Patch Asia summed up for their readers Susan's talk on the 'Holistic Business Model' application as, "…the remarkable success story of BNE, which many governments and companies around the world are seeking to replicate."
That "remarkable success story" of BNE was realized in 2005 when the company, backed by Irish investors, found very high grade oil onshore Belize. Prior to that, the world's biggest oil companies explored the area unsuccessfully and left with the belief that no oil could be found.
Not only did BNE discover oil, but the quality of the oil was so good and light that locals put it directly in generators, and Shell Oil now buys all of their exports.
Since the discovery of oil, over 400 new jobs have been created in Belize by BNE which has become the number one revenue generator in the country. In addition, the company has received industry recognition for Green Company of the Year (2011), Employer of the Year (2012), and GetEnergy Global Education and Training in Exploration Award (2013) -received competing against 40 other countries and companies.
Susan hopes that through the Irish Oil and Gas Summit and the 'Holistic Energy Model' that Ireland can have the same success as BNE/Belize. "I believe in a win,win,win for all if Ireland develops the on and off shore oil and gas resources the right way." She added, "Maybe that "Luck of the Irish" kept all those reserves until Ireland and the Industry was ready to do it right for everyone."
To learn more about BNE and the EDUCO Holistic Business Model, contact Susan at:
[email protected] or 3036183797.