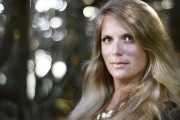 by Cindy Reich
Ashley Davis grew up listening to her parents' vinyl recordings of folk music—concentrating on the lyrics and listening carefully to the message in the song. The ability to tell a story—a story that would capture and hold your attention was important. Of course, growing up in Kansas, Davis was also exposed to country music and bluegrass and these genres also prized the ability to tell a story. She became a serious student of the craft of songwriting and decided that she wanted to be a songwriter.
However, it wasn't until just before Ashley was going off to school in Nashville—to learn the craft of songwriting—that everything changed with just one CD. A Connie Dover CD that really resonated with Ashley when she heard it. "The way that Connie Dover's singing made me feel is how I wanted people to feel when they heard my music", Davis explained. "It was in her phrasing and delivery—I hadn't heard anything that affected me that way previously. Subconsciously I must have absorbed it, because people would always ask me when I sang where my Irish influence was coming from—it all had to do with the phrasing and delivery." After hearing Dover, Ashley started listening to every female Celtic singer she could.
Davis has a powerful and compelling voice and could have simply become a vocalist—learning the traditional ballads and singing them to great effect. But that was the easy path. Ashley was not content with being a singer—she wanted to be a songwriter—a much harder path to walk. It helped that she was a lover of words—of literature, poetry and all the ways that words can make magic. She took words and phrases and reworked them into something that seemed very old, but was entirely new and different. By her third album, she decided to stop trying to work within the box and just do what she wanted in terms of instrumentation and songs. "Songs Of The Celtic Winter" consequently went on to garner the most acclaim of all her releases, so her gut instinct seemed to be correct. But it was always a struggle to get across the fact that the lyrics and the songwriting was the most important thing for her. She did a Masters of Traditional Music at the World Music Centre at the University of Limerick—and even there she had to fight to be able to pursue her goal of song writing. Ultimately they listened to her and asked who she would like to work with. "John Spillane" was the answer and they brought him to the University for a workshop in songwriting.
Her skill in songwriting bore fruit when the head of the education department of the Grammy awards (who knew there was such a thing?) heard "Songs Of The Celtic Winter", became an instant fan, and as a result, contacted Davis to invite her to teach World music songwriting at workshops that are held throughout the U.S. "They bring the very best producers, songwriters, singers and more to teach high school kids at these invitational music camps", Davis said. "It is an amazing and very rewarding experience. I had kids that couldn't write a thing who would have a song at the end of one day. I showed them how to take old material and rework it into something modern and new. For example, I took "Greensleeves" and told them to take the lyrics and completely modernize them. But they had to keep the message—the essence of what the song was saying. It was hysterical—they were diving into dictionaries to look up these words they had never heard before. But they all said that of all the songwriters I explained the process in a way that they could understand and implement."
Ashley Davis will be making her Colorado debut at the Spanish Peaks International Celtic Music Festival at the end of September in La Veta Colorado.
She will teach and perform at the festival, but seemed particularly excited about one workshop. "I'm really looking forward to the Spanish Peaks festival" said Davis, "I will have the opportunity to teach a workshop (Contemporary Celtic Songwriting)
with John Doyle!"
Davis also has three albums to date—"Closer To You", "Down By The Sea" and "Songs of The Celtic Winter". She will be releasing her latest album, "Night Trails" in early 2014. Ashley will also be doing a live interview on "The Long Acre" (krfcfm.org) on September 8th between 2-4pm. Her website is www.daisyrings.com