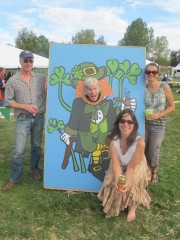 Now in its 4th year, the small but mighty Celtic Harvest Festival Edgewater continues its tradition of being the biggest little Festival in Colorado. With a small-town feel appropriate for its location in Citizens Park in Edgewater, last year the Festival attracted a massive crowd of 10,000 (over its two-day run, not all at once…) and continued the tradition of featuring only home-grown Colorado bands (of whom there are many, many more than you might think!).
That same practice continues this year with a lineup that offers Kindred Spirits, Mythica, Billy the Mountain, Keep Britain Irish, Celtic Winds, O'Neill's Fancy, Sherman Woods and crowd favorites Angus Mohr and Colcannon, both back for return engagements. In addition, the Colorado Youth Pipe Band and Highland Dancers will perform along with the Heritage Irish Stepdancers, Wick School of Irish Dancers and dancers from the Colorado Welsh Society.
The Festival opens on Saturday the 21st, 10A-9P and Sunday 22nd 10A-5P and is free, so you can attend and spend your time listening to the music, watching the dancers and patronizing the vendors of Celtic art and merchandise, the farmers market with its fresh offerings (it is, after all, the Harvest Festival), watching the dogs of the British Isles and raptors from HawkQuest, being awed by the Scottish Village of the Renaissance Scots and visiting the tents of the Scottish Clan village.
Come one, come all to Citizens Park, 22nd and Benton in Edgewater, two blocks west of Sheridan and Sloan's Lake Park.