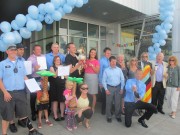 XJet employees and family members gave XJet founder Josh Stewart a big surprise greeting last month as he returned to work at XJet facility Denver's Centennial Airport.
With champagne bottles popping and the table set for celebration Josh arrived beaming ear to ear.
He had just returned from the United Arab Emigrates where he had sign an agreement to move the private jet club's operational headquarters to Dubai World Central's Aviation District.
A native of Belfast, arrived in the US in 2004, committed to realizing his dream of creating a new company to offer the highest level of services to private jet owners and users. That year, the United States was home to approximately 60% of the worldwide business aviation fleet supported by the Fixed Based Operator (FBO) business model. Mr. Stewart recognized there was a great opportunity to transform the traditional FBO model, which focuses on pilot relationships and relies heavily on fuel sales for its profitability, to a model that focuses on servicing the jet owner while providing more stable and predictable profitability. Thus, the concept for XJet was born.
With the support of some local investors and jet owners, XJet initiated development in Denver in early 2005. The goal was to develop a business model from the ground up to support the private jet owner, focusing on world class asset protection and security with hangarage, Seven Star Service, lifestyle support through dedicated 24/7 concierge and transparent economics.
XJet opened its revolutionary private jet club at Denver's Centennial Airport (APA) in 2007, offering the aircraft owner the finest facilities and service available in the industry. At a time where many existing FBOs were struggling for survival, XJet continued to refine its unique brand of Seven Star Service and opened to transient customers in 2009. The company has achieved double-digit growth since inception and currently ranks as the #1 service provider in the US. The company has held that ranking for two years (AIN & Pro Pilot magazines).
XJet is now a global, internationally-focused company which has built upon its initial launch in the
U.S. The company identified the United Arab Emirates as a key market for global expansion early in its development and has now signed a deal with Dubai World Central (DWC) to build a world-class terminal and global headquarters. With a projected doubling of private jet movements within the next five years, this region provides a tremendous opportunity. In addition, the company is also in various stages of expansion to other U.S. and international locations, such as Kona, Hawaii and Paris, France.
"Dubai is the largest international airport in the world," said Josh, "The market holds great opportunities for our company with the increasing number of private jet owners in the Middle East, as several more owners from around the world are interested in the region. We will provide special training to our team to ensure they are able to cater to various cultural sensitivities and work in our new facility."
www.XJetWorld.com