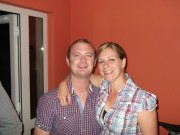 ireland made simple (5mm bleeds)-2Planning a trip to Ireland but don't know where to start? Wish you knew a local? Someone who you could sit down with and pick their brain about traveling right in Ireland? Well meet your new Colorado based travel consultant, Ireland Made Simple!
Ireland Made Simple is the brainchild of newlyweds, Julian and Erica Bourke.
Julian from Limerick, and Erica from Dublin, moved to Colorado this past April on a bit of a whim.
According to Julian, their original thought was to take an extended visit somewhere laid-back and close to the great outdoors -maybe Canada. While on their honeymoon in Thailand, the Bourkes mentioned the idea to a fellow tourist from the States who advised that they check out Boulder, Colorado. Wind beneath the wings was given by the fact that Julian already holds dual citizenship with the U.S. and Ireland since his mom was born in Tennessee. Now, the Bourkes love the Rocky Mountain Region so much that Erica is in the process of becoming a U.S. citizen.
One thing the Bourkes noticed about their new home, was the lack of Irish accents in the western United States; and, of course the first thing their new friends recognize are the Bourke brogues.
Not long after initial greetings, the conversation would soon turn to Ireland. "Some of the people we've met say that they want to go to Ireland but are unsure how to plan ," said Julian, "and others tell about their travel to Ireland and what they did – all the while I'm thinking ,right, went to all the tourist traps and spent too much money."
The Irish couple at Ireland Made Simple promise to provide folks with local inside knowledge on Ireland, along with the right connections to get the best deal for their money. "We can give an Irish person's perspective on what the tourist's options are and try to save a little money on top of it."
Julian gave an example, "When they go to Dublin they would go to Temple Bar, which is a tourist trap, where you will spend a lot of money – and if you stay there you are going to spend a lot of money on accommodations and everything is expensive, when you can pay less a couple of streets over."
As much as Julian would like to give his clients tips on getting off the beaten path, he does appreciate some of the tourist sights and that people desire to see them.
"What I really want to do for the customer is get a feel for what they want to do and base them in the right place, with the right transportation, and the right plan, so that they can have an amazing time in the Emerald Isle and save some money"
Whether you want to visit one or all of Ireland's 32 counties, travel as an individual or group, Julian and Erica at Ireland Made Simple believe that they can help design your own unique trip.
If you are planning a trip to Ireland, Julian asks that you contact him and discuss budget and interests.
You can call 303-579-3011, Email at irelandmadesimple@gmail.com or Facebook atwww.facebook.com/pages/Ireland-Made-Simple