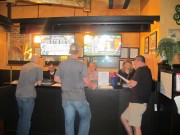 There are decisions to be made when you enter the Celtic Tavern at 18th & Blake in Lower Downtown Denver (LoDo); Donegal Fish & Chips vs. Scottish Salmon Filet, London Broil vs. Sirloin, Guinness vs. Murphy's, Jameson vs. Bushmill, and so on and so on.. Now you can add one more decision – What horse do I bet on?
Off Track Betting (OTB) is now available at the "Celtic" starting at 10.30 am ( 8 am on special race days) on horses, greyhound, or harness racing. Betting is not mandatory, but it is hard not to get excited and involved like the other betters when you are surrounded by 35 TVs covering races from around the country.
Live tellers are on hand to help you place your bets or if you prefer, use one of the automated machines.
If you enjoy a smoke with your drink, head into sister pub Delaney's which adjoins the "Celtic." Delaney's also accommodates off track betting. They are the only facility in Colorado where you can enjoy a pint, a bet and a cigar all at the same time.
www.TheCelticTavern.com 1801 Blake St, Denver, CO 80202 Phone:(303) 308-1795