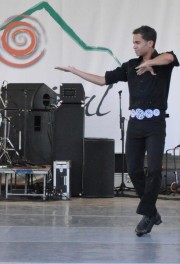 When the producers of Riverdance were looking for dancers- Irish, Latin Flamenco, Afro Cuban and Street, for their new dance stage spectacular 'Heartbeat of Home(HOH),' they decided to incorporate social media into the project.
This past April HOH gave a shout out to the world with an online talent search that asked dancers to record a dance audition and download it to HeartbestofHome.com. In addition to HOH judges, everyone was invited to go online to watch the videos and vote for their favorites through April 26.
Denver native Blaine Donovan made his audition video in the Celtic Steps studio where he teaches. He gave a brief introduction and 90 seconds of strong Irish Dance. Apparently the HOH judges liked what they saw because on April 29th Blaine was picked in the first 'Judges Choice' announcement and was offered a trip to Ireland in May to continue the audition process, with the goal of joining the cast of HOH for the premiere at The Bord Gáis Energy Theatre, Dublin, to run 3 weeks in September – October 2013.
On his brief bio for the online portion of the talent search, Blaine told HOH and the world, "… Irish dance is my passion and I strive to be among the best! I started dancing at the age of 7 and being 22 now, I will forever be inspired by Irish dancing for its beauty, grace, strength and physicality. Showing that is how I express my love for this and hope to inspire others. I love new experiences and want to make some more with Heartbeat of Home!"
Now that his wish has been granted, Blaine will leave for Dublin on May 22. Prior to his departure he said, "I'm so excited to be a part of this amazing experience. I've grown up knowing most of these dancers selected either by the public vote or the judge's choice, and to be among these world champions and other fantastic dancers, knowing I'm in the same category as them is unreal!"
While in Dublin, Blaine will be required to perform a hard shoe and light shoe piece that would be executed for competition. But what he really is fired up about is a piece that he has choreographed specifically for the audition. "The judges suggest a non-Irish dance music piece that cannot exceed 90 seconds. The piece is a contemporary, modern, and classical ballet showcase with half Irish dancing. This is something I've never done before and am so absolutely excited to perform this for the judges!"
Blaine knows his time in Dublin will be packed with dancing and other HOH activities, but he does hope for a little free time. "I'm flying to Ireland on my birthday for this! We may have to do some interviews and work with the press once we get there and I'm beginning to feel famous now! Just as well, my friend Jessica Lesser who is the Denver Queen Colleen will be there for the Rose of Tralee, and my cousin and his wife are traveling to Ireland at this time. If I have time while I'm in Dublin I really hope that I could meet up with them. Dublin here I come!" June 2013 Celtic Connection