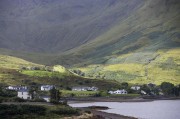 By Liam Cassin
"This year Ireland hosts The Gathering,
a program of events and initiatives
extending the famously warm Irish
welcome to all the people in the
global Irish diaspora"

As a child growing up in England, I visited Ireland almost every year. My parents were born there; Dad from Bandon in West Cork and Mom from Duagh on the north Kerry border with Limerick. They were big on maintaining their links with the family and friends they had "left behind." More importantly for them, they wanted to show us where we came from, to have us experience a slice of their background, because it was just as surely our own background. It was a wonderful experience every time we went and, because of the efforts of my parents, I am still in touch with virtually all my first cousins and whatever uncles and aunts we have that are still living.
Having been in America for almost twenty years, and now with a family of my own, I have found it just as rewarding to visit Ireland with them. My wife is from Dundalk in County Louth and so between her relations and mine there are always a lot of folks to welcome us 'home.'
Ironically, even though we are 5,000 miles further away from Ireland than I was as a child, the journey time is pretty much the same. In fact, in many ways it's an easier trip. Substitute a 12 hour ferry crossing across the often tempestuous Irish Sea, as well as at least 7 hours of driving on narrow country roads, with a transatlantic flight on a luxury airliner, and you begin to see why.
This year Ireland hosts The Gathering, a program of events and initiatives designed for the purpose of extending the famously warm Irish welcome to all the people in the extended Irish family, the diaspora if you will. The idea is much the same as my parents had all those years ago: to allow Irish people the world over to visit with relatives, however distant, make and renew friendships, and experience the land, culture and history which is such a vital part of all of us.
In this respect, Irish America has a very significant role to play. Over half of the 70 million strong Irish diaspora lives right here in the US. As an aunt told me shortly before I came stateside, there is barely a family in Ireland that hasn't got someone belonging to them in America.
Ireland holds a special charm for most of us, whether we go there often or are planning the very first trip. It is a unique place to spend your vacation, especially if you have some Irish blood coursing through your veins! The scenery is unrivalled; from the beautiful lush-green hillsides of West Cork in the south (Ireland's 'Riviera'), to the rugged coastline of the west through the rolling plains of the midlands all the way to the bustling port towns and cities of the East Coast. Everywhere history abounds, you can see it in the landscapes and the buildings, you can almost reach out and touch it. Culture, too, is an important part of the experience. Traditional Irish music, food, language, the way of life are all things that you can only really appreciate first-hand. Perhaps most important of all is the famous Irish hospitality. Take the time out to speak with the locals where you are staying. They will be more than happy to sup a pint or a cup of tea with you and, more often than not, will share the secret of some hidden gem in their own area; maybe a beach, a restaurant, a site of special interest or a music seisiún.
Nowadays, the Irish tourism industry is second to none. The country boasts some of the world's best hotels, shopping districts, restaurants, golf courses and whatever else is on your personal "bucket list." This year, The Gathering has taken an Irish vacation to a completely new level, with over 2,000 festivals, clan gatherings, concerts, sporting occasions and other events taking place throughout the country the whole year long. Ireland is also excellent value for money. Survey after survey reveals that hotels around the country are among the least expensive in Europe.
There is an almost endless variety of things to see and do while you are in Ireland. Take in one of the many cultural, arts or food festivals, especially over the summer months. Go support your county in a GAA game, or maybe try your luck at a race meeting (Ireland is blessed with some of the finest horse-racing venues in Europe). Take a day trip to a site of special historical or cultural significance, they are literally all over the country. www.Ireland.com
To make the most of your stay, pay a visit to www.ireland.com. This is the official web site of Tourism Ireland and it has comprehensive listings for places to go, things to see and do, events, accommodation, and special travel offers.
The Gathering is a very exciting initiative with many, many moving parts. People across Ireland, in every city, town and village are rolling out the 'green carpet' to welcome home their visitors from America and other parts of the world. And they will do a great job of it because, after all, isn't that what they have been doing for decades? When we used to make that annual pilgrimage from England as children, my parents never referred to it as a vacation or as a holiday. Instead they used to tell us we were 'going home.' And that is exactly as it felt then and still feels now.
There's nothing like it.