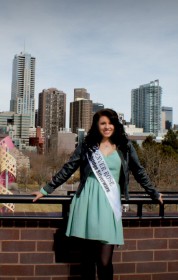 (photo credit: Antikainen Photography)
Denver Rose Jessica Lesser (pictured above) will be one of the World Champion and Professional Irish Dancers at the Roots of the Rose: A Show of Irish Celebration, Friday April 26 at the Tivoli Turnhalle at Auraria campus. The show will benefit the Denver Rocky Mountain Rose of Tralee Center, a not for profit organization. Proceeds will help to send Jessica, the 2013 Denver Rose, to Ireland at the end of May to compete in the regional finals of the International Rose of Tralee Festival with 6o other cities from around the world.
Other performances during the evening include Dr. Marcin Arendt, virtuoso fiddle Player and wife Rebecca , a world class singer, and the Michael Collins Pipe Band.
In addition there will be tickets sold for drawings for great prizes!
Roots of the Rose, Friday, April 26, 7:00 – 9:00 pm at Tivoli Turnhalle at the Auraria Campus, 1201 5th St, Denver. Invite your friends and purchase your tickets online at: http://denverrose.ticketleap.com/rootsoftherose/ http://www.denverrosecenter.org/