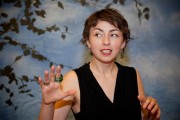 "SURE THE CRAIC WAS 90:
AN EVENING OF IRISH STORY AND SONG"
with Feargal Lynn, Clare Murphy and Liz Weir
The Old Louisville Inn, 740 Front Street, Louisville 80027
Wednesday April 10, 7:00pm 6:30 p.m. – Ages 18+
$10 in advance via www.irishnetworkco.com
Sponsored by the Irish Network-Colorado

Every year in April approximately 100 participants representing a wide range of backgrounds gather on the University of Colorado's Boulder campus to participate on 200 Conference on World Affairs panels, performances, and plenaries. All CWA sessions are free and open to the public. The Sixty-fifth Annual CWA, April 8-12, 2013, will host several visitors from the Emerald Isle.
Clare Muireann Murphy is a performance storyteller, social entrepreneur, and writer who has contributed significantly to the development of storytelling in the West of Ireland and performed all over the world, including at the Globe Theatre London, the Esplanade Theatre in Singapore, and Dramatikkens Hus in Oslo.
Liz Weir hails from the village of Cushendall, in the heart of the Glens of Antrim. She is an award-winning storyteller and writer, who has spun tales across five continents, from small clubs to large international festivals. She has written three books for children, as well as television scripts for animation, and has been a regularly featured radio presenter on the BBC.
Feargal Lynn, also from Cushendall, is a folk singer and storyteller, who plays guitar, tin whistle, and bodhran, and has contributed to radio, television, and storytelling festivals. Lynn is a qualified psychiatric nurse and manager in elder care, and has worked various mental health managerial roles, including extensively with homelessness, addictions and employability.
During that week, Lynn, Murphy and Weir will also appear on over 20 Conference panels and performances over April 8-12. To view their full schedules and a full listing of 200 Conference on World Affairs events, visit: www.colorado.edu/cwa
While all CWA events are held on the Boulder campus, these performers will appear in Louisville for one night at the Old Louisville Inn Wednesday April 10, 7:00pm
Irish Network-Colorado welcomes all the Irish-American community and everyone who loves Irish song
and story to join in this special evening. Please do come as early as 5:30 to socialize, if you like! And please support host and publican Garrett McCarthy by having your meal at OLI that night. (See www.olirish.com
for menu and directions.)