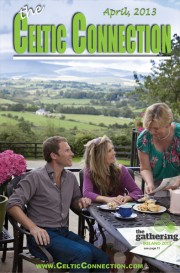 Ireland is a great country to visit at any time, but this year is special. 2013 is the year of The Gathering, a nationwide grassroots effort to lay down the green carpet for the entire global Irish family. The Gathering will be bringing people together from all over the world to celebrate their Irishness, heritage, history and culture. Altogether there are over 2,000 events planned including, but definitely not limited to, music festivals, sporting events, clan gatherings, food fairs, and literary, stage and screen festivals. To make a long story short, whatever month you arrive in Ireland this year, and whatever county you find yourself in, there will be something amazing going on. Catch unique events such as Riverdance—The Gathering in July; The Kilkenny Arts Festival in August or The Dublin Fringe Festival in September.
There are almost as many ways to enjoy a vacation in Ireland as there are Gathering events. That's because there is such a large Irish family outside the country (there's four million or more in California alone) and over the decades Ireland has learned very well how to look after its returning sons and daughters and any new family members they might bring with them.
In terms of accommodations, Ireland boasts thousands of Bed and Breakfasts, self-catering opportunities, small hotels and guesthouses as well as many superb city center hotels and hotel resorts dotted around the countryside. You can even stay in several castles! There's something to suit, whatever your budget or your travel requirements.
Bed and breakfasts have long been a favorite in Ireland because they offer so much flexibility. You could be at the Galway races one day, staying in Salthill overlooking the majestic Atlantic shoreline, and decide the next to take a drive down to the Lakes of Killarney. Driving distances and times are very short in Ireland, nothing is very far from anything else. In the time it takes to drive between San Francisco and Los Angeles you can easily get from Belfast, the northern capital, to Cork City in the South. That's a big reason why the B & Bs are so popular, they allow you the freedom to roam wherever you want and whenever you want. And it's not just a stay at a B&B that's unforgettable—the hearty Irish breakfast you'll have every morning is famous world-wide!
Vacation rentals, or holiday homes are in plentiful supply. I have stayed in a few and have never been disappointed. They are a great way to go if you're planning on entertaining friends and family. Hotels in Ireland have been rated among the best value in Europe by Hotels.com and what better way to experience Ireland's historic towns and cities than by basing yourself at the very center of them.
Whichever option, or combination of options, you choose for your stay in Ireland you would be well served to visit www.ireland.com first. The official web site of Tourism Ireland provides advice on all aspects of your trip and specifically provides details and links to over 7,000 accommodations of all different types.
Of course, your accommodation needs might be taken care of if you decide to use the services of one of the many tour companies that specialize in vacations in Ireland. Tours based on particular activities, cultural themes, or geographic locations are all available and worth looking into if you want to maximize the time you have to spend in Ireland.
You can take tours around Ireland's major attractions, tours around its stately homes and castles, cultural, historical and culinary tours. You can even take mini tours around its main cities. Hop on an open-top double decker bus around Dublin and you'll see many of the capital's unique landmarks—there's the Guinness Storehouse, Dublin Castle, Kilmainham Jail and the vibrant Temple Bar area to name but a few! Golf tours are very popular. You can even design your own tour with some companies. Simply decide which of Ireland's hundreds of fabulous links or parkland courses you want to play at and the tour operator will do the rest, tailoring your trip exactly the way you want it.
Many of the premier tour companies operating in Ireland have special deals and packages which tie in wonderfully with the year of The Gathering. This year marks the 50th anniversary of President John F Kennedy's visit to Ireland and many activities and events are planned to mark that historic occasion, such as the 50 mile Challenge in Sneem, County Kerry, and The Homecoming event in New Ross, County Wexford.
2013 is also a big year for Northern Ireland. The centuries-old walled city of Derry-Londonderry is the UK City of Culture this year and will also host Ireland's biggest traditional music festival, Fleadh Cheoil na hÉireann in August. Another exciting event for Northern Ireland is The World Police and Fire Games, which will be held in Belfast in August. With 10,000 competitors, 57 sports and 70 countries taking part, these games are the second largest sporting spectacle in the world after the Olympics! The Titanic Belfast Visitor Center celebrated its first anniversary in March. It's the world's largest Titanic Visitor center, and showcases full-scale reconstructions and interactive exhibitions to tell the Titanic story.
So whether you want to take advantage of the touring opportunities available or explore Ireland on your own terms this is the year to go!