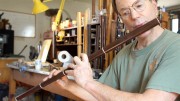 As Stradivarius violins are to violinists, so are Patrick Olwell flutes to Irish flute players. A native of Cincinnati, Olwell makes the world's most sought-after Irish flutes in a shop in Nellysford, VA. A flute player himself, Olwell began making flutes in the 1970s and a job repairing and restoring antique flutes led to an examination and exploration of centuries of flute history from around the world. That Doctoral-level dissertation research led Patrick to an autodidactic experimentation and refinement of the instrument, which he combined with modern tools and technology to create the world's finest Irish flutes. Made of bamboo, African blackwood, rosewood, cocus or boxwood, his flutes are works of art even unplayed. When played by musicians including Colm O'Donnell, Seamus Egan, June McCormack, Mike Rafferty, Harry McGowan, Brian Finnegan, & Matt Molloy, Jethro Tull's Ian Anderson and local musicians David Migoya and Blayne Chastain, they become, in Blayne's words, "… an instrument that enhances an artist's ability and capacity for expression without limits. Other flutes are limiting. With Patrick's flutes you are limited only by yourself." Olwell is egalitarian in his approach to the sale of his flutes and while he could sell them for much more, the most expensive keyed flute is $3,250; for custom flutes tailored to a musician's specifications, the cost is $4,250. When the rare one is sold on ebay, it generally brings at least twice that. Patrick and his son Aaron make only 60 flutes a year and there is a one year lag between order and delivery for a keyless flute and seven years for a keyed flute although David Migoya reports that he waited 9 years for his boxwood flute, 10 years for his cocus flute and is still waiting for his flute in C.
Jem Moore, formerly of Lyons, Colorado and now living in Macau, has played an Olwell flute for twenty years. In 2011 he was leaving a session at Conor O'Neill's one evening and while loading his baby into the car set his flute on top of the car and drove off. The flute fell off and was damaged and led to Jem reconnecting with Patrick. That reunion led Jem, a self-taught videographer (in addition to playing the hammered dulcimer and being a professional airline pilot) to producing a documentary about Patrick.
In company with Blayne as Director of Photography, whom he met in 2003 playing for a wedding in Boulder and also a self-taught videographer, they initiated a Kickstarter campaign in late 2011 that was filled in early 2012. They spent nearly 500 hours in interviews and editing of the film between February and December. Jem says that "The film captures what is subtle and beautiful about the flutes Patrick makes, and shows that side-by-side with what is subtle and beautiful about Irish traditional music. The filming started with a week spent at Patrick's workshop and home in Virginia, getting interviews and up-close footage of Patrick and Aaron working on flutes. Then we traveled around the world for interviews with people who play Patrick's flutes, from Chicago and Boston to Ireland, England and Australia, filming traditional sessions in all of these places, and learning why Patrick's flutes are so coveted by the traditional music community that right now people are putting deposits on flutes it will take over six years to receive." I want to "…tell the story and preserve the heritage of a unique individual who, from a modest workshop in rural Virginia, has shaped the direction and sound of traditional Irish flute music for more than twenty years. Patrick's flutes will be played far into the next century, traveling through time in the hands of real musicians, kept alive by their breath."
The world premiere of the finished product "The Keymaster: Patrick Olwell's story" will be held in Boulder's Boedecker Theatre on Thursday, February 28th at 8pm. The theatre only seats 70, so get your tickets fast! The number for the box office is 303.444.7328. Patrick Olwell and his son Aaron will attend the premiere and there will be a Q&A after each showing with them, Blayne and Jem. There will be a second showing on Friday, March 1st, at the Lyons Farmette in Lyons, CO that will feature an Irish session afterwards. The Farmette number is 303.746.6266. DVDs and Blu-ray discs will be available for purchase at each showing. The trailer for the film can be viewed at https://vimeo.com/44967262.