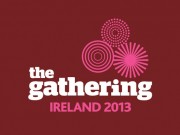 As you read this we are less than one short month away from the official launch of The Gathering Ireland 2013. The Gathering is a year long invitation to the Irish Diaspora, (all 70 million of us!) to come home and enjoy the party, to celebrate our culture and heritage and to reconnect with friends, relatives and all things Irish. It is the Irish government and communities throughout the country rolling out the red carpet for Ireland's extended family around the globe. No effort will be spared to make sure that those who travel have the time of their lives. Plans are already set for thousands of events, spread throughout every county, from family and clan gatherings to company conventions, from sporting fixtures to a whole array of
spectacular festivals.
The Gathering is interactive and Ireland wants you to be part of it. If you have an idea on a specific event and want advice on how to organize the travel and accommodation, or any other aspect, you can talk to a dedicated 'Gathering' expert (see the box on the right for details). For lots more information on The Gathering please check out
www.discoverireland.com and
www.thegatheringireland.com. What are you waiting for?
The festivities proper start in Dublin on New Year's Eve, what better time? Ireland's capital city will play host to the rapturous two-day NYE Dublin Festival, featuring a New Year's Eve Countdown Concert at College Green, a fabulous fireworks display on St Stephen's Green, a Torchlit Procession through Dublin's streets broad and narrow, five Festival Zones located around Dublin City Center and the Big Brunch which takes place in Meeting House Square on New Year's Day. All are welcome to the festival and what a fantastic way to see in the New Year, right in the thick of things, surrounded by all the history, culture and spectacular architecture Dublin has to offer, not to mention the unrivalled wit and welcome of its citizens.
There will literally be no break in the proceedings from then until the end of December 2013. From January 1 onwards The Gathering will be in full flow, with events and festivals and all sorts of fun happening all over the country. As always discoverireland.com is the best resource if you want to find out what's going on, either in a specific area or just to inspire your trip.
Of the bigger organized events happening early in the year, the Temple Bar Tradfest and the St Patrick's Festival stand out.
The Tradfest makes its home in the iconic and diverse—some say Bohemian—Temple Bar district of Dublin. It takes place between January 22 and January 27. Now in it's 8th year the Tradfest is billed as Dublin's biggest and best festival of traditional Irish music. Over 200 different events take place during the six days and nights. There will be street performers, outdoor stages and top quality music emanating from the doorways of every hostelry. There will be organized concerts at venues such as Christ Church Cathedral and the Rotunda at Dublin City Hall. Ireland's best musicians will be performing, including such stars as Sharon Shannon, Martin Hayes and Dennis Cahill, Maura O'Connell and T with the Maggies. If you're a trad fan this is a 'don't miss' event.
The St Patrick's Festival takes place in Dublin from Thursday March 14 through Monday March 18. Each year this extravaganza gets bigger and better, being a wonderful showcase for Irish arts and culture in general. Street theatre and performance, pageantry, spectacle, music, dance, literature, comedy, film, and family events are all enhanced by a warm and uplifting carnival atmosphere. Last year upwards of half a million people showed up for the center point of the festival, the St Patrick's Day Parade. This year, for the first time ever and in honor of The Gathering, organizers are are inviting up to 8,000 people from around the world to march in the St Patrick's Day Parade on March 17. It's called the People's Parade and it's a once in a lifetime opportunity and applications are now open!
As seasoned visitors will know, there is no bad time to visit Ireland. The climate is mild all year round and there is always something going on. In fact, in many ways, those times of year referred to as the 'off-season' can sometimes be the best time for your trip. Just about everything is better value (although in surveys over the last few year's Ireland has consistently ranked top or almost top in most value-for-money categories). It's easier to get a seat at the theatre, a table at a popular restaurant or a tee-time at a world class golf course when you travel off peak. Hotels and other accommodations are more flexible and generally have better rates. And of course the famous Irish Céad Míle Fáilte, a hundred thousand welcomes, is the same whenever you go.
There are a great many reasons to visit Ireland next year and be a part of The Gathering. Whatever your particular motivation—family, friends, connections, a sense of adventure, or you just love a party—you are welcome at any time. It's a year long celebration.
There are a great many reasons to visit
Ireland next year and be a part of
The Gathering. Whatever your particular motivation—family, friends, connections, a sense of adventure, or you just love a party—you are welcome at any time.
It's a year long celebration.
Talk to a Gathering expert on 1-800-SHAMROCK or by emailing gathering.us@tourismireland.com