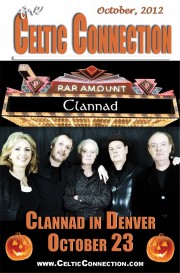 Clannad are unquestionably one of the most unique yet identifiable sounds in Celtic Music. The Ó'Braonáin (Brennan) and Ó'Dúgáin (Duggan) families have been making their timeless music infused with the landscape of Donegal for over 40 years. Cindy Reich recently caught up with Máire (Moya) Ó'Braonáin at home in Donegal just prior to the start of a North American tour.
CR Did you have a clue when you formed "Clann as Dobhair"—"family from Dobhair" (which became "Clannad") in 1970 that you would be still traveling the world, bringing the music of Donegal to the world?
MB Not at all. It's astonishing. It's astonishing because it was simply something we were passionate about. We didn't get a band together because we wanted to make money and become famous. We actually got the band together simply from the joy of playing together in my father's pub. The instruments were around the house, the Gaelic songs were all around us and we were brought up in a musical household. That was the root of the Clannad sound that is now universally regarded as I suppose, "Celtic Music".
CR Well, I've been to Leo's Pub in Meenaleck and the music just oozes from the walls..
MB Well then you must feel it… When people talk to me about the Clannad sound, I say, if you go to Donegal, you kind of feel that ethereal earthiness that we allowed to become part of our music. It has that ancient kind of feel to it. But you have to remember when we sang the Gaelic songs those many years ago, it was never done with instruments, it was never done with harmonies, so we were sort of shunned a bit for using those things with the traditional songs, but we sort of spontaneously went where we felt the feeling was.
CR—Well, you definitely had the land and the language in your music, but what surprised me what that it became so universal. You wouldn't really expect that a family singing in Gaelic from Donegal would affect people around the world. Most people wouldn't even understand the lyrics, so the music itself had to grab them deeply. To go around the world, as Clannad's music has, for a native language, I think is extraordinary.
MB—It is quite extraordinary, but it has something to do with the way we feel about the music and that always came across—that soulful feeling. The other thing as well, is that we were very blessed in 1982 to do a TV show in England (where the theme from "Harry's Game" originated) which really opened doors for us. We would never have been played on radio, so to have the opportunity for people to hear that launched us in a way. Then, when the "Theme from Harry's Game" was used by a car company for a commercial in the US, it brought a whole new audience to our music. If you give the people something to sit up to… however, it was still in the Gaelic language. We didn't write it to be a hit, but it became one anyway (laughing). So for it to go on "Top Of The Pops" in London—still the only song in Gaelic to be on that show, and to have an ad in America with a Gaelic song, for us was quite extraordinary.
CR—The interesting thing is that there are people today who weren't even born when "Harry's Game" came out and yet they hear it today and are captivated by it in the same way. It has a timeless quality about it that transcends generations.
MB—It was never done with a click track. It was just Ciarán and myself—Ciarán on the old Prophet-5 and I'm looking at him and I'm just singing along with the beat of our heart and what we felt. It's got that organic feeling, I suppose, and people do feel that.
When we were developing Clannad, we weren't afraid of using our voices and experimenting with them. It allowed that "sound". I've had emails from all over the world asking me what microphone I use, or what reverb I use or whatever, but when they come see me live, they realize it is really just my voice. I've allowed my voice to become part of the landscape I grew up in, you know?
CR But you would have grown up singing in your father's pub and singing in the house. You weren't afraid of using your voice—it was probably as natural as breathing to be singing and playing as you grew up.
MB Absolutely. My mother was a music teacher and my father was a musician all his life. He had a showband before we had the pub and so I grew up listening him rehearsing in the front room with his band. Anything from Nat King Cole to the Everly Brothers to Buddy Holly or a bit of ceili music or whatever. You can imagine, growing up in Donegal at that time when it was quite remote—we created our own entertainment.
CR So what was the first party piece you can remember doing as a child?
MB "How Much Is That Doggie In The Window" (laughing) Would you believe? But I would have a lot of children's songs in Gaelic that I would've grown up with. That was my only English song for a very long time.
CR Did you do the sound effects too?? The barking??
MB Oh, definitely! That was really important!! (laughing)
CR I want to talk about the new album. You are due to release your first album with all of the original members of Clannad since 1989. Is it out yet?
MB Well…with everything else, we keep writing new songs and changing songs. We're very excited to be back recording and have a huge bank of songs. There has been so much time since the last album; it's hard to let go of some of these songs because you are always thinking you can improve on them. So it is taking longer than we thought, so you'll have to hold your breath a little while longer.
But since we haven't been to North America in 19 years, we feel that with 17 albums—people will want to hear for the first time in ages, the songs that they know. We feel that is what we want to bring first. People want to hear "Harry's Game" and "I Will Find You" and "Lore" and so on. We didn't want to rush the album just to have in hand for this tour. It's really important to us—this album. We are doing two halves to the show and we want to get on as many songs as we can. It's a big show—we have the five original members plus a percussionist and a keyboard player so its not too big, but big enough to give everyone that Clannad sound! Getting on stage is exciting again and we can't wait to get to Denver! It's always a little bit harder to sing there, though..(laughing).
October 2012 Celtic Connection, Denver Colorado
Clannad will be appearing at the Paramount Theatre, Tuesday, October 23 at 7:30pm