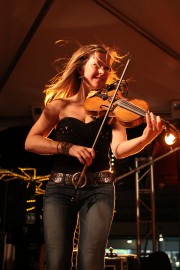 Gaelic Storm will bring their "whirlwind ruckus" (Village Voice) to Denver Friday October 5th for another raucous, crowd-pleasing performance at the Gothic Theatre www.GothicTheatre.com. There will be an added level of energy in the house as local hero Jessie Burns plays the fiddle for the last time in Colorado. Jessie will return to her adopted home of Boulder where she will work on her solo CD project – And new baby!
The Celtic Connection interviewed Jessie Burns as she traveled toward Colorado with Gaelic Storm to do her last 'hometown' concert. She reflected on her time with the band and looking toward exciting times ahead.
Times must be bitter sweet for you Jessie – after 5 and a half years fiddling with Gaelic Storm, one of the most successful bands today in World music, you're about to leave the band and take time off to have your first baby in December. How are you handling these big life changes?
I remember when I joined the band and I had no idea what lay ahead or how I would handle it. It's just the same now – uncharted territory lays ahead. I'm so grateful for the almost 6 years I've had with the band – what a wild ride its been and though I'm kind of broken hearted to leave, it is for a wonderful reason! I'm taking things one day at a time and pouring extra energy into the shows, and despite getting rounder each day, I'm enjoying it all even more than ever before. I have 4 band brothers now who I know are lifelong friends- I feel so lucky and am sure that we'll work together again one of these days in some capacity. I'm finding arranging my teaching schedule and working on my solo album is helping me to have a focus for once touring ends too.
Gaelic Storm travel around 220 days a year. That must be exhausting – do you just get in a rhythm? Ever forget what city you were playing in?
We do get into a rhythm – we load onto the van by 10 am, drive, stop for food at 1, load in at the venue at 3, soundcheck at 5, have food at 6, play the show around 8, then meet fans, pack up, drive, get to the hotel around 1am, wind down and sleep by around 3 am and do the same thing the next day. To many people this sounds like torture, but you adapt and it becomes so normal. We are familiar with cities all over the country. We aim for certain restaurants, meet up with old friends, explore cool areas and make the most of the opportunity to travel over this vast land. The pace of constant change can get confusing though. Once we drove to Bloomington, IL for a gig and posted our whereabouts on the band Facebook page. Within minutes, a fan wrote "Check your schedule: I think you're supposed to be in Bloomington, IN!" He was right, so we hightailed it through two States and made it in time for the gig. I think that's the only time that's happened!
What will you miss most about touring?
It's a long list! I love challenge of performing and making people happy through music, seeing the world, playing in post-festival sessions with world class musicians and forging strong friendships with other touring musicians from all over the world. Without a doubt what I'll miss the most is the guys because we're basically like a family at this point. Since three of us are from Ireland and England, and are away from our homelands, we have that cultural bond too. It's not easy traveling 220 days a year, separated from your family and we really support each other through all the ups and downs and life changes. The highs are really high, and the lows are really low, but no matter what one of us is facing on a personal level, we all support each other and step up to make sure the show doesn't suffer – and to regularly experience that sense of camaraderie is wonderful.
In 2007, after only 7 months with Gaelic Storm, you told the Celtic Connection that the Milwaukee Irish Fest was your most memorable performance to date. Now, 5 years later and tours around the world, what are some of your most memorable gigs?
My standout favorite gig ever was in Brittany, France in 2011. We stayed in a crumbling Norman castle outside of the town of Paimpol with Carlos Nunez and some other really fun musicians and made great friends with the staff there who were like a French cast of Faulty Towers ( a famous English comedy show set in a ramshackle hotel). I had a hilarious time resurrecting my French and translating for the band. The festival had Sinead O'Connor, The Waterboys, Gaelic Storm, Kila and Carlos Nunez and lots of Breton bands too. The setting was spectacular, taking place next to a stunning harbor, crammed full of beautifully decorated boats which people had sailed over in for the weekend from all over Europe. Breton dress was the clothing of choice, so lots of red/pink caps and pants, striped sailing shirts and fisherman's smocks adorned the partiers who would hop from boat to boat having BBQs, playing music and drinking wine. Huge bubbling vats of octopus, smoking grills full of sardines and highly alcoholic cider stands lined the harbor's edge. At night there was traditional Breton dancing to a live band under the stars, and the locals had a great time laughing at my efforts to dance! It was the trip of a lifetime.
Though not gigs, three of the most memorable days involved album releases. We made "What's the Rumpus", "Cabbage" and most recently, "Chicken Boxer" in the last five and a half years. Each of those albums has our combined blood, sweat and tears on it and involved so much work. When each of them reached and stayed for a few weeks at #1 on the Billboard World Music Charts, we all felt such a sense of achievement and joy. I particularly remember that with "What's the Rumpus" our first ever #1. We were driving down a mountain side in NC, and our manager called up and screamed on speakerphone "you're number one, number one!" for us all to hear. We were absolutely ecstatic and we bought the audience champagne that night to celebrate!
Tell us about your husband Eric, he is a musician too?
My husband is local bass player Eric Thorin, who teaches, produces and tours with multiple bands internationally. We met 14 years ago in Steamboat when I sat in with the Tony Furtado Band, his gig at the time, and have been friends ever since. He is actually the bassist on our latest album, Chicken Boxer, and he really sounds great on it. Since we both travel so much, the "ships passing" saying definitely applies to us. We're certainly looking forward to seeing more of each other!
You are bringing out a solo CD in the next six months or so.
Will it have original material? What is the general mix of tunes and songs? Who will perform with you on the album?
Though it still needs a name, my solo album is getting close to completion after 4 years of working on it in brief breaks between tours. I really enjoy playing different styles of fiddle music so in amongst Irish influenced music, there are lots of original tunes as well as Old Time and New Acoustic music. The most rewarding part of the process has been collaborating with some of my favorite musicians, and there's lovely playing from Sean Sutherland (The Wayfarers), Jon Sousa, Brad Murphy, Rich Zimmerman, Jason Dilg, Erin Youngberg, Margot Krimmel and Eric Thorin and there might be more by the time I'm finished! I hope to have it out in the world in the Spring and it will be available on CD Baby, at shows and through my website. Now I have to think of baby names AND an album name!
You will also be teaching fiddle lessons this coming year. Are you setting up your own program or will you teach through an existing school?

Before Gaelic Storm, I had a really busy teaching practice which I'm re-starting once I'm off the road in mid October. I'll have a private practice at first and then hope to teach additionally in connection with some local schools. Irish music is such accessible, social music that in no time at all, first time fiddlers can be playing tunes they recognize and before they know it, they've caught the fiddling bug! For advanced players, there's no limit to the level they can reach. The technicalities of ornaments, style and bowings can be taken so far – and present a fabulous challenge! I love teaching and I'm really looking forward to connecting with students again.
I'll bet you that the Sunday Irish sessions folks at Conor O'Neill's in Boulder are excited to have you back in town?
I can't speak for them, but I'm so excited to re-integrate back into the wonderful music community we have here. There's nothing like a glass of cider and playing joyful music with friends on a cold winter night to put the world to rights!
You're originally from England, will you have any excited family members coming to Colorado to see the new baby over the holidays?
My Mum is heading this way for a long stay over the holidays, for much needed baby help and to switch out the English holiday drizzle for our amazing winter climate! My sister in London just had her first baby too, so I'm planning on heading over to England in the Spring to introduce the cousins and spend time with my huge family over there.
Congratulations on all of your accomplishments with Gaelic Storm and of course on your new baby. Okay, boy or girl?

Thank you so much! It's been quite the adventure and of course, a totally new one lies ahead now. We chose to have a surprise with the gender so bets are on- we did check and it is one OR the other (phew). It stuck its tongue out at us a few times during one scan (which we caught on camera) and since it kicks and squirms throughout every Gaelic Storm performance , I think Eric and I will have our hands very full!
An Evening with Gaelic Storm
Friday October 5th, 7:30pm Show, 6:30pm Doors.
All Ages Show (Under 16 must be accompanied by parent w/ticket)/GA
Gothic Theatre, 3263 South Broadway, Englewood CO
Tickets: $20.00 Advance $25.00 DOS
Advance tickets at Denver Folklore Center, Kolacny Music, and
at: www.gothictheatre.com or call 303-777-0502