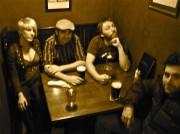 by Rodger Hara
Colorado's newest Celtic Festival continues to honor one of its original goals of featuring only local bands. Now in its third year, the Celtic Harvest Festival Edgewater is offering a place on its stage to one of Colorado's newest and fastest rising Celtic bands, Delilah's Revenge.
This four piece Boulder-based purveyor of sounds they call "Celtic folk with a punk edge" has only been together since November 2011 and in that short time has won spots on the stages of the Colorado Irish Festival, Dickens Opera House, Cheyenne Depot's Celtic Musical Arts Festival, People's Fair, Oktoberfest and won a semi-finalist spot in the Colorado Irish Festival's Battle of the Bands this spring. In addition, they have opened for the San Diego-based band Lexington Field at Scruffy Murphy's and were recently nominated as Band of the Month on the Celtic/Folk/Punk Blog.
All four came to Colorado from other states; Justin Lancaster, lead guitar, accordion, whistle and back-up vocals and Tom Reed, bass, harmonica and lead vocals are childhood friends from Connecticut who moved to Boulder together several years ago on the basis of an HGTV show that featured dream homes in Boulder with an overview of the city. Karen Lauffer, fiddle, viola and cello is originally from Baltimore and drummer Giuseppe Cortese from Wisconsin.
In what is rapidly becoming the vehicle of choice for putting a band together, Karen and Giuseppe responded to a Craig's List ad and the band was formed. The name came from an idea Justin had for a song about an alternate telling of the story of Samson and Delilah; development of the song didn't work but the name for the band did.
Karen moved to Boulder to pursue a graduate music degree in violin and is the only full-time musician, teaching violin in Arvada when not playing with the band. Giuseppe is a former drummer with a heavy metal band who studied at the University of Minnesota and Harvard and is working on his PhD in neuroscience at the University of Colorado. Justin has a degree in Physics and Tom is a software engineer for a cable television company.
All are in their early twenties and in spite of or perhaps because of their diverse backgrounds, there is a musical chemistry that works exceedingly well for them. Justin's grandmother was born in Ireland, Tom has Welsh blood and the two discovered Irish music in Connecticut. Karen, a classically trained violinist who had played with the York, PA symphony orchestra, was asked to fill in with an Irish band and was hooked.
Influenced by the Pogues, Dropkick Murphys and Flogging Molly, the band uses acoustic guitars rather than electric to honor traditional sounds – but with the earlier-referenced punk edge – and a full drum kit. The band plays a grand mixture of cover and original songs with organic arrangements in which all participate.
Each has learned more about music than they knew before they began playing together as well as much about themselves, teamwork and communication. For Karen, the music the band makes is liberating and reminds her of her love of music; for Justin, it is a means to making his ideas real and for Tom, it has changed his outlook on life and how he regards music and approaches goals.
Delilah's Revenge can be found on YouTube and Facebook and can be seen and heard at the Celtic Harvest Festival Edgewater at 5 PM on Saturday September 15 where you can buy a copy of their first CD. Catch them now so you can say you heard them when…
Celtic Harvest Festival Edgewater is September 15-16 at Citizens Park, Edgewater, CO W/Colcannon, Delallah-Bartsch Duo, Mulligan Stew, Deb & the Pariahs, Delilah's Revenge, The Indulgers, Beth Gadbaw & Margot Krimmel, Jon Sousa & Adam Agee, The Wicked Shehogues Ren Scots, Flyball Dogs and Irish and Highland dancing, pipers, farmers market, clan tents, food and fun, lots of merchandise from local artists, merchants and vendors.
Free Info at: www.celticharvestfestivaledgewater.com