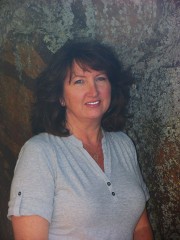 By Rodger Hara
The internet makes it possible for any band anywhere to be heard around the world at virtually any time. There is an old-fashioned comfort that can be found in the immediacy and intimacy of radio broadcasts that may be preserved and listened to again but can only be heard live once. Boulder station KBCO and its Studio C shows come most readily to mind for that kind of magic – you can hear it live if you live in radio range or on the net if you tune in. Rarely, however, does a local band get a chance to be heard in another country!
In July, several local bands were given an opportunity to be heard on Scottish radio by Madelaine Cave (www.madelainecave.com), a former resident of Boulder and Broomfield who now lives in Haddington, a town about 20 miles east of Edinburgh. Madelaine has her own weekly show "East Coast Folk" on community radio station East Coast FM (www.ecfm.co.uk). On a visit to Colorado, she recorded several of her shows in the Longmont studio of Craig Corona to which she invited local bands and musicians. Included among them were Colcannon, Deb and the Pariahs, The Celtic Friends, Loretta Thompson, Craig Corona and Crowboy, an Americana/Folk Rock/Indie band.
Born in the East Lothian coastal town of North Berwick to a family where her mother sang, brother played guitar and stepfather the fiddle, she arrived in Colorado via her first marriage to a diplomat who was the American Consul General to Scotland. When that marriage ended, she chose to remain in Boulder with her daughter and continued her life-long love of singing. Madelaine re-married in 2000 and began sitting in on sessions around town, taking bodhrán lessons from Bonnie Carroll, vocal coaching with Karen Tucker Patterson and Liz Whitney, and performing with High Country Chorus in Wheat Ridge. In 2010 Madelaine began working with Mark Geissler, Craig Corona and Chris Smith and released her first CD of Scottish songs entitled "Away To The Westward".
A copy of her CD found its way to East Coast FM radio, and while on holiday in Scotland Madelaine was invited as a guest on the morning show by presenter Jim Anderson. When program director Ian Robertson learned that Madelaine was considering a return to Scotland on a more or less full time basis, he offered her a show of her own and in the course of less than a year she grew the station's folk music library from just a few albums to hundreds. On her weekly show (8 PM to 10 PM GMT each Tuesday), she includes tracks from both well-established and up and coming folk musicians and often has guest artists who perform live in the studio. On August 28th "East Coast Folk" with guests Kathy Stewart and Patsy Seddon featured the songs Davy Steele, the Scottish singer/songwriter who died in 2001. Davy's widow, harpist and singer Patsy Seddon, brought together many of Davy's friends to perform songs from the CD "Steele The Show" at the Trad on the Tyne Festival in Haddington. Madelaine had recorded some of these songs being performed by Colorado musicians and played them on that show to the delight of Patsy and Kathy.
Madelaine is expanding her musical horizons to take in guitar lessons and is organizing concerts, bringing more music to East Lothian. She hopes someday to join a band and in the meantime is contemplating a full time relocation to Scotland. Scotland's gain is our loss, and we can still hear her on East Coast FM online, but it's just not the same as hearing her live…