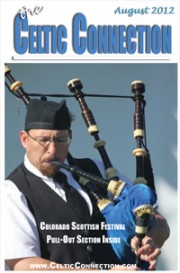 Nessie, the friendly giant mascot of the Colorado Scottish Festival, will be dancing up a storm Saturday night, August 4, when Irish balladeer and humorist, Seamus Kennedy, and the Indi/Scottish/Folk rock group Enter the Haggis take the Festival stage in a musical extravaganza. The internationally known musical acts will follow the5 p.m. Hot! Piping and Hot! Drumming contests, judged by the audience.
Now in its 49th year, the all-new Colorado Scottish Festival and Rocky Mountain Highland Games runs all day August 4-5, 2012, in Highlands Heritage Park, two miles south of C-470 on Quebec in Highlands Ranch.
Come enjoy music, dance and fun for all ages. Experience the earth-shaking sound of the Massed Pipes and Drums, the grace of the Highland dancers, and the power of the great Scottish athletes as they throw the caber (telephone pole) to win the Rocky Mountain Scottish Athletic Championship. Enjoy the ever-popular historical re-enactors and dogs of the British Isles, along with a British car show (on Sunday). Trace your family history as you meet members of your clan. Try a taste of haggis with a wee dram of whiskey, and have a laugh as ladies of the Festival judge the Bonny Knees Contest for Men. Bring the kids for fun children's games. Wonder at the flying feet of dancers from the Bennett School of Irish Dance, and enjoy food and vendors all day both days
With its new Title Sponsor, the Streets of Southglenn, the Colorado Scottish Festival is open from 9 am to 10 pm on Saturday and from 9 am to 5 pm on Sunday. Tickets can be purchased in advance from the website, or at the door. Special rate for seniors; children 6 and under are free. Free parking and shuttle service.
For tickets and additional information, visit www.scottishgames.org, or call the Festival's hotline at 303-238-6524.