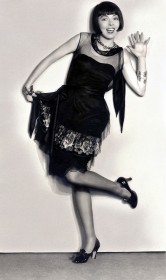 The Ward Irish Music Archives returns to the Colorado Irish Festival at Clement Park Littleton July 13 -15 with the exhibit The Irish in Film July. This exhibit examines the Irish and Irish American contribution to the art of film. "It is one of our most popular Exhibits." Said Barry Stapleton, Archive Curator "The exhibit will have over 100 film posters (reproductions) over 50 biographies with pictures, and 64 collages of various Irish films with photos, reviews, lobby cards, advertising, etc."
In the 19th century, Ireland was known as a prodigious country for playwrights, ripe with a vivid theatrical scene when film was making its debut. Famous Irish playwrights of the time included Oscar Wilde, George Bernard Shaw and John Millington Synge to name just a few.
The silent film era lasted from 1894-1929. In 1910 Ireland played host to the Kalem Company, a touring film company from the United States. Under the direction of Sidney Olcott, Kalem made several short Irish melodramas in Co. Kerry and thereby launched a tradition of great filmmakers using Ireland as a backdrop for their work. Of course, today Ireland is known for the classic film The Quiet Man. Many other films were made in Ireland, including Michael Collins and The Secret of Roan Inish.
Later the establishment in 1961 of Telefís Éireann, the national television service, provided work for a growing number of technicians and a training ground for filmmakers. The establishment in 1981 and re-establishment in 1993 of the Irish Film Board facilitated independent film production. Homegrown images of Ireland are now being brought to international screens by Irish born directors such as Neil Jordan and Jim Sheridan.
Many great actors in film were born in Ireland including Richard Harris, Maureen O'Hara, Brenda Fricker, Liam Neeson, Pierce Brosnan, Colin Farrell, Brendan Gleeson and Cillian Murphy.
In America at the beginning of the 20th century, the entertainment industry was full of Irish Americans. Vaudeville was in its heyday and the recording industry was also in its infancy. Tin Pan Alley was roaring with Irish themed music. In silent films Irish Americans such as Buster Keaton, Colleen Moore, Thomas Meighan and many more were pioneers in film.
Mack Sennett was the son of Irish immigrants who had settled in Canada. Mack came to America and started the Keystone Studios in California. Sennett's silent slapstick comedies were noted for their wild car chases and custard pie warfare. Many important actors started their careers with Sennett, including Mabel Normand, Charlie Chaplin, Fatty Arbuckle, Gloria Swanson, Polly Moran, The Keystone Kops, Bing Crosby, and W. C. Fields.
When the film industry hit its stride in the 1930s & 1940s the proliferation of Irish Americans involved is notable: James Cagney, Pat O'Brien, Spencer Tracy, Gregory Peck & Tyrone Power to name only a few.
Great directors such as John Ford, John Huston, Leo McCarey were Irish Americans. Walt Disney & Alfred Hitchcock also had significant Irish family connections.
While Irish & Irish Americans played an important role in film, so did Irish and Irish American history as the source of many scripts for film. The Irish Civil War, IRA and the Troubles in Ireland were utilized for countless films made in Ireland and America such as Ryan's Daughter and The Patriot Games. Many Irish plays were made into films such as The Playboy of the Western World; even the film My Fair Lady was based on the original stage play Pygmalion by George Bernard Shaw.
Today Irish roles can be identified by their accents, names, and situations within a film. But the Irish American role has changed dramatically. No longer can all Irish Americans be viewed as all Catholic or Democrats, policeman or priests. In some films it is only through a characters name that you would find an Irish connection. Still the Irish contribution to film is as strong as ever and through this exhibit we hope you'll enjoy all that the Irish & Irish Americans have contributed to film.