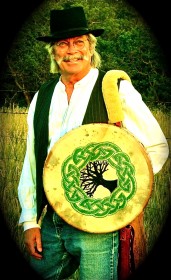 by Rodger Hara
Seanchaí is Irish for the bearer of old lore – a story teller. In the times before written language – and those times when written language was forbidden to many (e.g., the days of the hedge schools), the oral tradition was the only means for sharing and preserving the stories, legends, traditions and history of the people. Some were highly respected members of royal households who retained important information for the clan while others traveled from place to place sharing their stories for food and lodging.
Colorado is blessed with its own seanchaí. Denis Michael John McCarthy Gorman Gessing, a Colorado native and third generation Irish-American who calls himself the "American-Irish Seanchaí" and the "Celtic Cowboy". Tracing his roots to County Donegal on his maternal grandfather's side, he became a story teller twenty years ago after pursuing careers in film-making, acting, working in human services with the deaf and disability communities and survivors of traumatic brain injuries. Although to hear him tell it, he's been telling stories "All my life. At least since I told my 2nd grade teacher a big windy about the missing pages of my arithmetic book. But I've only been getting paid for it for the dozen years or more."
His stories cover a wide range of topics that reflect his family heritage and the places he's lived, including the Old West, World History and Ghosts as well as Celtic, Fairy and Folk tales. His favorites are mostly Irish and include "Timothy and the Lady," "The Blackthorn Walking Stick," "Martha and Johnny." It is the Irish stories that come to him the most naturally and he believes that it's important to be true to the culture and tradition. He enjoys most audiences and likes those with the young or the old the most. He particularly enjoys more intimate settings – like living rooms, family reunions or around campfires. A major influence on his story-telling style has been Liz Weir, a world renowned professional story-teller, writer and B&B operator from Belfast and he hopes one day to do a "reverse migration" and take his stories of the Old West back home to Ireland.
A graduate of St. Francis de Sales High School in Denver, he also has a degree in film from the School of Visual Arts in New York City and a certificate in American Sign Language interpretation from El Camino College in California.
It was his work with the deaf that led him to meet his second wife and her daughter, who was deaf, that inspired him to begin writing a young adult novel in 1995 featuring a young deaf girl as the protagonist "Midnight and the Magic Prairie Schooner" that begins in Donegal and moves west to Oregon. The young girl survives bullying and taunting because of her handicap with mystical powers she's inherited.
In addition to the book, he's produced a CD of stories for children 8 years and older called "Tales From Eiré". He tells stories at schools, colleges, community and senior centers, senior living facilities, businesses, around campfires and at festivals – especially the Colorado Irish Festival where he will be returning for his second appearance on the Cultural Stage this year. Check the Festival Entertainment Schedule for times. His stories will enchant you – and your children too.
And if you can't make the Festival, you can hear some of his stories on his podcast or on YouTube, links for which can be found on his website, www.olstoryteller.com.