from Shay Dunne (June 2012 Celtic Connection)
Co-ed Hurling League, Sundays 3pm Clement Park Littleton.
The Hurling League resumes next Sunday June 3rd at Clement Park after a hiatus of a couple of weeks due to the Albuquerque trip and the Memorial Weekend Holiday. The players are chomping at the bit to get back out and pick up where things left off before the break. The competitiveness and team spirit has been fantastic with all players both Veterans and New Players raising the skill level and intensity each week. The camaraderie has been fantastic even though the competition is fierce, with fair play and respect on and off the field. Each of the four teams look fantastic kitted out in their new jerseys and we have the largest number of players we have ever had in the league.
After two weeks of play 2012 Hurling League Standings have unbeaten Dougherty's Irish Pub in first place edging past the unbeaten Celtic Tavern with a total point count of 21 to 20. Scruffy Murphys were 3rd and The Fainting Goat 4th.
Co-ed Football League, Fridays 7pm Infinity Park Glendale.
The Football League kicks off on Friday June 8th at 7pm at the turf field at Infinity Park in Glendale. The league has been eagerly awaited ever since the hugely successful Draft Party and Barbecue held at Seamus Blaney's house a few weeks back. Like the Hurling League we have the highest ever number of players ever for this league. There has been much good spirited banter between the players about who the best team is but obviously all the talk in the world will not replace actual play on the field to determine each games winner. Names of each team were also selected by vote of the players the night of the draft and are as follows:
The Cute Hoors. Captain: Marci Metcalf; Honey Badgers. Captain: Damien Borg; BAMF's. Captain Katie Ortman; Orange Crush. Captain: Nathan Civili
New players are always welcome to both leagues and to the Denver Gaels in general, go to www.denvergaels.com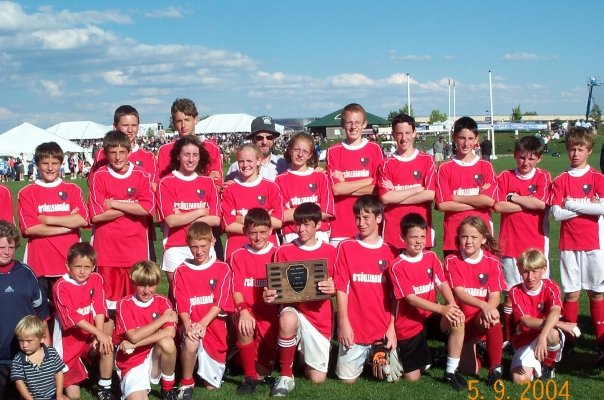 or our facebook page for more info.**
On Going Practices
In addition to the league play, regular training sessions are continuing to improve our skills and prepare for upcoming games and of course the ultimate North American Championships in Philadelphia on Labor Day Weekend. The training times and locations are as follows:
Hurling: Tuesdays and Thursdays at 6:30pm at Clement Park in Littleton; Football, Men and Ladies: Wednesdays at 6:30pm at Cook Park in Denver; Football Men: Sundays, 1pm Clement Park Littleton; Camogie (ladies): Thursdays, 6pm City Park in Denver next to the youth fields.
Albuquerque Trip.
As we have done for the past number of years, the Denver Gaels made the trek south to the Rio Grande Celtic Festival in Albuquerque on May 18th. This year the focus was men's football and we were hosted by a very strong team of Irish Lads form the Intel facility in Albuquerque.
This was our first competitive football game of the year and we were eager to test our mettle against a very experienced Intel team. We started off brightly and both sides swapped points and were neck and neck right through the game. A superb effort by our new goal keeper David Leflar kept us in the game and the teams were tied right up to the last few minutes when a late goal from a series of passes gave the Intel team the win.
After a break of a couple of hours a second game commenced. Denver started brightly in an effort to make up for the previous loss and remained competitive until the second half when the superior numbers on the Intel team plus their level of experience saw them pull away and take the second game also.
Although we lost, Denver gave a very good account of ourselves and played hard and fair and the Intel team were full of praise for Denver and how far we are progressing as a team. We have taken valuable experiences from the game and it goes a long way in helping us prepare for our up-coming games in San Diego, Kansas City and of course at the North American Championships in Philly. Best players for Denver were: David Leflar, Tom Walsh, Dylan Donnelly,Lloyd Chavez,Kieran Lynn
That night both teams met up at Dirty Burbon's in Albuquerque for some libations and where many showed their skill on the mechanical bull. There may be some transfers in the future to the Pro Rodeo Tour.
Re-Launch of Denver Gaels Youth League
After a bit of a hiatus, we are happy to announce the RE-LAUNCH of the Denver Gaels Youth league! Starting up on Sunday, June 10th from 2-4 pm we will be starting to build the new team. We are currently focusing primarily on Gaelic football, but we will have a few small clinics here and there to introduce the youth to hurling/camogie. This summer is a building summer. We are focused on laying a strong foundation so that NEXT summer (2013) the Denver Gaels Youth league will be a force to be reckoned with at the national youth conference! Since this is a building year, we strongly encourage ALL youth (both boys and girls) between the ages of 8-17yrs to come out and try their hand at this wonderful Irish sport! No need to be shy or worry about not knowing how to play, we have expert coaches that will be working from the basics up and teaching your youth how to play. The best part about this league. . . it's F-R-E-E. Simply show up with water, sunscreen, and good running shoes/cleats. We will be meeting on Sundays (starting June 10th) from 2-4pm at Clement Park in Littleton. We will be on the fields nearest the library. Please come and join us for a summer of fun, free Irish sports! For more information about our league, you can contact us at [email protected] or visit our website www.denvergaels.com/youth .