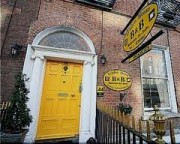 Travel There..
Accommodations in Ireland – A plan for all vacations
by Enda Walsh June 2012 Celtic Connection
Ireland is ready and waiting for you – You just need to get there. Before you go, set your itinerary as precise or as carefree as you need it to be. No matter where you travel on the island there will be accommodations to fit your needs.
If you are going to Ireland primarily for a popular special event, location, or time, it would be wise to book your room in advance. If you are traveling alone or with like minded companions, and you have a relatively open schedule, then you might
find booking as you go an adventurous way to travel. Unencumbered by specifics can be freedom for some but daunting to others, so know your personality.
'A Hundred Thousand Welcomes' (Céad míle fáilte) is not just a clever Irish slogan. Folks in Ireland's travel industry go out of their way to help you and are proud of their worldwide reputation for Irish hospitality.
To illustrate my point I will share one of many great experiences with this phenomenon.
Outside of Galway we were driving along a shore road in a "me and you and a dog named boo" frame of mind when we realized it was time to find a room for the evening.
The night darkness was setting in quickly as rain and wind came across the Atlantic. We drove into the first B & B just as the owner was outside locking the door. We learned that he had just finished cleaning up from earlier guests and was heading to his home. With a smile on his face and no bother at all he brought us in from the storm. After calling his wife to tell her that he would be late, he proceeded to build us a turf fire, and served up hot tea with smoked salmon and Irish brown bread. Now where in the world do you find that warmth and friendly treatment of complete strangers? Ireland!
B & Bs are plentiful around Ireland in country, town, and urban settings. More often then not they suit my needs and budget. When you stay at a B& B, usually you are staying in someone's home and your host and family live on site. They are a wealth of information and are willing to educate you about their locality and give you insider tips on what to see and do, complete with directions.
As the acronym implies, your accommodation includes a bed and breakfast. Most rooms are en-suite (with bathrooms). You'll often find a sitting room in the home designed for your comfort to read or check the internet.
A sumptuous homemade breakfast will fuel you for the better part of your fun day ahead.
Hostels and Camp & Caravan are awesome options to help keep on budget as you travel through Ireland. Both are good ways to meet up with fellow tourists and share travel stories or learn about someone's home country. Amenities are more communal in nature so kitchens or cooking areas are self catering and shower areas have privacy controls but are often shared at central locations. Most Irish hostels have a selection of dorms and private rooms, and some private rooms offer en-suite facilities.
Camp and Caravan sites number around 200 in Ireland. Whether you arrive with caravan, a motor home or a tent, you well enjoy up to date camping facilities. Facilities usually include family areas for indoor and outdoor activities.
Camp & Caravan and Hostels both have curfews, so if you are a late night party animal when on vacation you might pick another type of accommodation. Both are very popular especially May through October, so book in advance.
The Irish Cottage can be a cozy base camp and another low-cost travel alternative, particularly if you are with your family or a group, and you want to hunker down and spend a longer time in one area. Self-catering cottages have full kitchens and can be your "home away from home" while allowing you to spend more time relaxing and exploring Ireland instead of changing accommodations every night.
Choose from traditional Irish cottages, modern apartments and chalets in villages, towns and cities all over the country.
Irish Guesthouses offer a viable alternative to traditional hotel accommodation in Ireland. Family-run guesthouses are all around the island conveniently located in urban and rural settings. Guesthouses are somewhat of a cross between a B & B and a conventional hotel, combining a homey personal touch with some hotel offerings like evening meals and a bar.
Manor Houses & Country Hotels are comprised of a unique collection of individual family run properties united by their owners' commitment to traditional hospitality and service. Sourcing local food and working with farmers, fishermen and food producers they bring the best and fresh to your dining room experience.
These boutique hotels can be found in idyllic settings throughout the country. All provide stylish accommodations and luxury experiences.
Castle Hotels would be ideal for the special occasion with the special person. Living in the lap of luxury and in the shadows of history could be the ultimate Irish experience that could spoil you forever – but go ahead, you only live once!
There you go, as you can see accommodations for tourists in Ireland are bountiful and brilliant! Now it's up to you to decide what suits you best.
A few tips before I sign off in regards to costs of accommodation:
Make sure that you understand if your booking price quote is per person or per room/accommodation; Most guesthouses accept credit cards but may charge a fee for this service, cash payments may be cheaper; Multiple night stays sometimes earn special discounts; In general you can go as cheap as $20 for a hostel and all the way up to – well a lot, for a room at a castle (but worth every penny). Costs can fluctuate depending on time of year, special events and other variables that effect availability.
And, the best tip I can give you is to go to discoverireland.com where all of your accommodations and vacation plans are made easy. So get your plan together and jump into action!