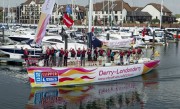 May 2012 Celtic Connection – Travel There
2012 Ireland Festivals Round-Up
Follow Enda Walsh as he changes horses and directions to showcase some of Ireland's many Festivals and Events
Trying to round-up all of the festivals and special events of Ireland would be like trying to lasso a herd of wild horses. They're scattered in every direction with their own uniqueness, pace, excitement and style. We're going to saddle-up and head east, west, north and south and gather a few of the happenings that are waiting to be the centerpiece of your vacation to Ireland.
Horse lovers and race goers from near and far travel to the West of Ireland every July to experience the adrenalin-pumping action of the Galway Races at Ballybrit July 30 – August 5. Situated on the outskirts of Galway city, this week long gathering is one of the fastest growing festivals in the world. After each day's racing, the action moves from the track into Galway for the city's famous nightlife.
Arrive earlier in the month and take-in the Galway Film Fleadh July10 -15, a six-day international event that will bring together the general cinema-going public, film buff's, student film makers, industry professionals and special guests or get primal when the "City of the Tribes" hosts Ireland's leading international Arts Festival in theatre, dance, visual arts and music at the Galway Arts Festival July16 – 29.
If you like your racing on the water, gallop up to Derry~Londonderry and anchor yourself at the Clipper Round the World Race and Maritime Festival July1 -31. The world's longest yacht race will make its homecoming leg from Nova Scotia to Northern Ireland, arriving in Derry~Londonderry in early July. The city's own yacht, the Derry-Londonderry, is part of the historic 40,000 mile race. Imagine the home town pride and festive frenzy as the Derry~Londonderry appears skimming across the bay neck and neck with the competition! Now, imagine the welcome the crews will receive and the fun and frolic and tales to be told — Shiver me timbers and count me in!
Meet Ireland's most famous queen of the sea in Westport, County Mayo and catch The Legend of Grainne Mhaol Summer Show June13 – September26. The popular summer musical is based on the real-life story of the legendary Irish Pirate Queen Grace O' Malley, or Gráinne Mhaol, who sailed the seas around Ireland in the 16th century. If you can arrange to be in town June 20 -24 you can also partake in the Westport International Sea Angling Festival featuring both boat and shore competition, the fishing takes place in the beautiful waters of Clew Bay in the shadow of Mt. Croagh Patrick. Called "The Reek" by the locals, the mountain is where St. Patrick fasted for 40-days and banished all the snakes from Ireland. If the weather is nice, and you're up to it, take the path to the top and enjoy the spectacular view.
Put on your running shoes and take to the road for the Clare Burren Marathon Challenge May 26. The Burren, in Co. Clare, is a region of 250 kilometers of stunning limestone rock landscapes. You won't find 40 shades of green, but many find tranquility and a sense of spiritual peace as they discover rare Irish plants and flowers, gentle streams, and megalithic tombs and monuments older than Egypt's pyramids.
If it is a relaxed pace that you are looking for, take the ferry to Traditional Basketmaking Culture Week on Inis Mór, Aran Islands, and takes place from the July 29-August 5. Traditional basket weaving workshops takes place for four hours daily. There is plenty of time to enjoy the lovely scenery of Inis Mór, the largest of the Aran Islands, and visit the many archaeological sites.
A good sense of humor abounds throughout Ireland, but if you want a real concentrated dose, head over to Kilkenny City May 31 – June 4 for The Cat Laughs Comedy Festival. Founded in 1994 the festival has grown from a small event comprising of a handful of shows to an internationally acclaimed festival which showcases the very best in Irish and international comedy acts.
Over 30,000 'foodies' converge on the Taste of Dublin June 14 -17 that takes place in the gorgeous surrounds of the Iveagh Gardens. Local and international food and drink is in abundance and there are opportunities to pick up hints and tips from world famous chefs. The West Cork Food and Drink Fair 2012 in Ballylickey June 16-17 focuses more on regional fare, one of the main features will be a vast range of Irish farmhouse cheeses. Dunmore East Festival of Food, Fish & Fun June 22 – 24 is a jam-packed weekend of family fun, festivities and of course fish.. Stroll through the village see the thatched cottages or wonder down to the harbor. Foynes Irish Coffee Festival June 1 – 3 takes place in the little village of Foynes, Co Limerick where in 1943 Chef Joe Sheridan invented the world famous Irish Coffee.
Drama, readings, lectures, music and fun will reign over the small town of Bruff, Co Limerick June 13 -17 as Bloomsday in Bruff celebrates the work of one of Ireland's famous writers, James Joyce. A week later, the Dublin Writers Festival
June 4-10 focuses more on top contemporary writers from around the world
with readings, discussions, debates, and workshops. Children's fiction writers are well represented as are Irish language writers. Newbridge College, Newbridge, Co Kildare, will host the 25th Gerard Manley Hopkins Festival Silver Jubilee July 21- 27. The Hopkins Literary Festival attracts participants from all over the world to explore the universal appeal of Hopkins's poetry. Not everyone has a book, but everyone has a story – Bring your's to Cape Clear Island International Storytelling Festival in Co Cork August 31 – September 2.
Where else but in Ireland would a wild mountain goat be crowned King and reign over a town for three days? The Puck Fair August 10 – 12 in Killorglin! One of Ireland's oldest festivals, celebrating almost 400 years, the spectacle comes complete with a coronation ceremony, parade, and free entertainment. Street artists, traders, craftsmen, buskers, face painting, pet show, and puppet theatre, add to the carnival atmosphere of Ireland's premier funfair.
Just what is Enya singing about? Immerse yourself at Irish Language & Culture Summer Festival in Glencolmcille, Co Donegal July 21- 28 for a week of language & cultural and come away speaking better Irish then some of the locals!
The music and dance traditions of Ireland are alive and well throughout Ireland as attested by the number of festival offerings. The nooks and crannies of the Glens of Antrim have fostered traditional music, song, and dance for centuries. Cushendall hosts County Antrim Fleadh May 13- 20. Make sure you take time for a cruise along the nine Glens and enjoy one of the most scenic drives in the world.
Irish music fans, musicians, and dancers from Ireland and abroad will converge at
the Willie Clancy Summer School (Scoil Samhraidh) in Miltown Malbay July 7-15.
Don't let the word "School" fool you – Yes, there will be classes and workshops for all levels in traditional Irish music and dance – but "Willie Week" is one big party that overflows from its official headquarters in Miltown Malbay to neighboring towns like Quilty and Spanish Point. Willie Clancy is Ireland's largest traditional music gathering, so make sure you book your room in advance.
Masters of Tradition festival in Bantry August15-19 is one of the more recent traditional music events on the scene that would be worth the effort to enjoy. The idea for the festival evolved from Artistic Director Martin Hayes' call to create a quiet and intimate space where the heart of traditional music could be exposed. Martin is a master Irish fiddler himself, and brings some of the very best Irish musicians to share their take on traditional music.
"So every Summer I go to Clare – Coz Woodstock, Knock nor the Feast of Cana -
Can't hold a match to Lisdoonvarna," sang Irish singer Christy Moore.
Lisdoonvarna Matchmaking Festival August 30 – September 7 is Europe's biggest singles event. Out in the wild west coast of Ireland in the county
of Clare the centuries-old tradition of matchmaking lives on. If you come to Ireland single, you just might return with your perfect match! Bring your dance shoes, the music starts each day at noon!
You might find your favorite pop performer at the 50th Belfast Festival at Queens October 19 -November 3, because everyone wants to perform in Ireland! Over the years guests as diverse as Jimi Hendrix, Laurence Olivier and Dizzy Gillespie have shared their sounds here. The music fest has grown to encompass dance, theatre, new music, jazz, blues and world music, folk and roots, exhibitions, comedy, film and education.
The Slipway in Belfast is the site where many a big ship first got their rudder wet. The most famous launching was the Titanic before its maiden voyage. On June 30th The Slipway will be the site of Land of Giants, the biggest outdoor arts event Northern Ireland has ever seen. Over 500 entertainers will present astounding acrobatics, aerial dance, carnivals, circus, music, multi-media shows and pyrotechnics.
Titanic Belfast has just opened its doors to world wide acclaim and is a 'must see' when in Belfast and Northern Ireland. The iconic six-floor building houses nine galleries that take you through the story of the Titanic with state-of-the-art interactive technology. The story continues beyond the ships tragic end, and includes the discovery of the wreck and live links to contemporary undersea exploration.
Not far from Belfast another impressive tourist attraction is scheduled to have Grand Opening events from September 1- 30. The Giants Causeway Visitor Centre in County Antrim is under construction to the tune of £18.5 million (over 24 million U.S.) and already looking spectacular! The eco-friendly centre's roof is covered in grass and inside you'll find charming tearooms where you will savor a steaming cup-a-tea and look at the neatly stacked basalt columns that reach out into the North Sea towards Scotland and ponder the maker – was it Mother Nature or Finn McCool?
Well there you have it buckaroos – I've lassoed a few fests to spark your imagination and help you plan your dream vacation to Ireland. But don't stop here 'cause more hoedowns and vacation ideas are waiting for you when you saddle-up and pony over to DiscoverIreland.com. NOW JUMP TO IT and get those little doggies rolling to Ireland! YEEHA!