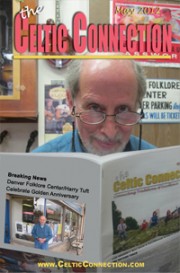 The Denver Folklore Center turns 50 this spring. A visit to the iconic holy ground at 1893 South Pearl Street is like walking into a living shrine to acoustic music. The walls are covered with stringed instruments and folk music memorabilia. Hand written signs organize bins stuffed with recordings or sheet music, guiding you to various genres of roots music. Magazine racks are where they can be because should be is not an option with limited space. But it doesn't matter- You know you're somewhere special, organic and good. Whether you want to play, listen, or educate yourself about folk music you're in the right place.
Friendly employees are nearby, tuning, teaching or talking music. A cozy corner spot has seating for those who want to pick a few tunes. There is some room in back for music lessons. If you walk in and you don't play, you feel like you should because you want to be apart of this scene.
The man behind this down home folk vibe is founder and owner of the Denver Folklore Center, Harry Tuft. Often referred to as "Denver's Godfather of Folk Music," Harry was just inducted into the Colorado Music Hall of Fame in February. A kind and humble man, he would feel awkward if you called him a legend – but call him one anyway because he is!
Born and raised in Philadelphia, Harry was turned-on to roots and folk music in his youth when he first learned to play a ukulele. As the folk scene began to blossom in America a friend pointed Harry towards Colorado and the young man packed up his 'uke' and went west. By a twist of fate that continues to benefit folk music lovers today, he opened the Denver Folklore center in 1962 on 17th Avenue in Capital Hill.
Harry said, "When I came to Denver many years ago, I realized that Denver was a city made up of lots of different communities. I found here among those communities, a group of folks who really liked the kind of music that I like. We came together, magically, to build this influential organization. I'm very proud."
It was not clear sailing in the folk music business. Harry drove a taxi at night and struggled along with occasional financial help from his parents. He began to offer music lessons because he was asked. Every Sunday there was a hootenanny at the store. The buzz started to grow about the new center for the growing folk music community.
Otis Taylor recalls, "The summer before I went to high school I discovered the Folklore Center – that was in '63 – and I basically never left the place. It was like I lived there. I'd go there on weekends and every day after school. A lot of kids were hanging out there. You'd listen to music and make friends. My whole life was based around the Denver Folklore Center until '67, when I moved to Boulder…" Taylor purchased his first instrument – a ukulele – at the store. "I was just a poor black kid hanging around – I'd wait for the teachers between classes and get them to give me a quick lesson." He describes the store's influence on him as follows: "From the Folklore Center came the music, from home came the attitude. It was pretty incredible. It had a huge influence on me. We'd have students coming from back east to come check out the center … My mom would put them up in our house. It was like another world."
Harry was asked by an agent to promote Joan Baez which led to a sold-out show at the Denver Auditorium Theatre. Other shows followed with more big names at more big venues including Red Rocks.
Harry expanded his storefront and exposure along 17th Avenue, adding more space for instruments and accessories, a repair shop, record store, concert hall and a music school that eventually was developed by Folklore employee Julie Davis into the current Swallow Hill Music School. By the early 70's the Denver Folklore Center became a Rocky Mountain Mecca for the folk scene.
Steven Fromholz (with Dan McCrimmon as Frummox) recalls: "When we hit the streets of Denver we had no place to stay… The first place we went was the Denver Folklore Center. It was a great place. The summer of '68 in Denver was hippie heaven and the Folklore Center was a big part of it all. I remember the walls were all wood, it was dark and a little dusty with incredible instruments hanging everywhere…but most of all it was a group of friendly folks. We met the owner, Harry Tuft, who took us in like lost children…He was so kind to many musicians. There was a concert hall at the Folklore Center where Harry presented live music on the weekends. It was a small room with a good PA system and lights. It was an incredible place to play because people came to listen. When the popular folkies played somewhere in Denver they would stop by and visit Harry. They bought strings, guitar picks and more often than not did a special show for Harry – Judy Collins, Joan Baez, Jack Elliott, Doc Watson – I saw Reverend Gary Davis play there. It was a listener's paradise."
The music was always good, but the economy and financial aspects of the business did not always follow suit. Over the years there were peaks and valleys as the store changed address and management – for a short time the doors were closed for business.
Resilience prevailed and in 1983 Harry opened the Denver Folklore Center at its current location at 1893 S. Pearl. He still hosts weekly song circles (Mon. 7P) and continues to perform both solo and with Grubstake, his folk trio of 40 years that includes Jack Stanesco and Steve Abbott. Last year he released his second solo album, Harry Tuft & Friends: Treasures Untold, accompanied by a who's who of Colorado musicians.
Many of those musicians and loads more from around the state and country will gather with Harry and Folklore Center family and friends over Memorial Day Weekend and celebrate the Golden Anniversary of the institution that Harry built.
Congratulations to Harry Tuft and Denver Folklore Center staff, alumni, friends and supporters!
Denver Folklore Center, 1893 South Pearl Street, Denver, CO 80210
303-777-4786 www.DenverFolklore.com info@denverfolklore.com
Denver Folklore Center – 50th Anniversary Celebration Concerts:.
Friday, May 25 at the Newman Center – 8pm
Hot Rize, Otis Taylor, and Harry Tuft and former Colorado Governor Dick Lamm
Saturday, May 26 at L2 Arts and Culture – 8pm
Tim O'Brien, Dakota Blonde, Nick & Helen Forster and Dick Weissman
Sunday, May 27 at Four Mile Historic Park – 1-4pm
Jim Kweskin & Geoff Muldaur; Mollie O'Brien & Rich Moore; Pete & Joan Wernick; Michael Cooney; Harry Tuft, Jack Stanesco, & Steve Abbot; with Martin Gilmore
Ticket Prices:
VIP Weekend Pass – $175 includes a semi-private party Sunday evening at Swallow Hill Music!
Standard Weekend Pass – $98
Friday Concert at the Newman Center – $28-$103 day of show, reserved seating
Saturday Concert at L2 Arts and Culture Center – $25 advance, $30 day of show
Sunday Concert at Four Mile Historic Park – $25 advance, $30 day of show
INFO & BOX OFFICE: http://swallowhillmusic.org/ 303-777-1003 x2