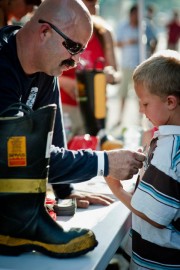 The folks at Dougherty's Irish Pub will be turning the street in front of their establishment into a party Saturday June 23 to raise money for the Denver Burn Foundation. Denver firefighters will be at the intersections of Broadway and Ellsworth, and Lincoln and Ellsworth with "The Boot" to collect donations.
Because of the nature of their jobs, professional fire fighters are often the first to come into contact with those who have suffered burn injuries. They take a personal interest in survivor treatment, rehabilitation and return to an ordinary life.
The event will be held 11am- 10pm. . There will be live music, a fire truck bouncy castle for the kids, a dunk tank featuring firemen who appeared in the Denver Firefighter calendar, food and drink specials all day and night. All proceeds from food and drink sales at Dougherty's will be donated to the Denver Burn Foundation.
Admission is free.
If you can't make it down for all the fun but want to donate, you can stop by Dougherty's and drop off a check or money order made out to the Denver Burn Foundation. Call 303-775-5210 for hours.