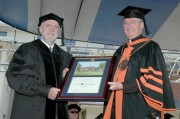 by Jeremy Lee
(Photo) Noel receiving the Civis Princeps (First Citizen) Award from Father Michael Sheeran, S.J., President of Regis University in 2006. It's the highest honor the University bestows.)
I was stunned, like so many, to hear that Noel Cunningham, restaurateur and humanitarian, had taken his life on December 1, 2011. I was sitting on my living room couch watching the evening news when the story broke and the feeling of disbelief overwhelmed me. One never thinks that they will tune into to the local newscast and hear about a tragic tale involving someone you know and love. Once the news was out, it moved through the community like a tidal wave leaving family, friends, coworkers and humanitarian partners in shock.
Over the past six years, Noel has been a friend, mentor and partner in various community efforts in Ethiopia. This is work that I have been involved with through my position at Regis University. Regis would not be in Ethiopia had it not been for Noel challenging the university to live its mission and to reach out to some of the most marginalized people in the world. For Noel, it was a matter of a making the connection between two entities he knew would have something to offer one another. This was one of Noel's finest attributes. He was a connector with prowess and practice like no other. In 2003, Noel facilitated that connection and put Regis University administrators together for a visit with the founders of Project Mercy, a 501c(3) nonprofit agency. Noel had begun to support the organization's development work in Ethiopia, and as a result of this meeting, the Ethiopia Intercultural Service Immersion Program was born.
Since that connection in 2003, Regis University's Rueckert-Hartman College for Health Professions (RHCHP) has been traveling almost every year to Ethiopia with a group of Nursing, Physical Therapy, Health Services Administration and Pharmacy students and faculty to learn and serve various communities in the country. Approximately 75 students and 15 faculty and staff have participated in this transformational experience. Partnerships fostered by RHCHP in Ethiopia with nonprofit organizations, clinics, hospitals, and educational institutions have are flourishing. In the spring of 2012, the largest cohort yet of 17 students will travel to Ethiopia for a combination of health related service and clinical work. As Noel liked to stress without reservation, the experience of traveling to Ethiopia to learn and serve is the ultimate embodiment of Regis' Jesuit mission by demanding those who participate to consider and take action to address challenges facing the world's most marginalized populations.
Through the years, Noel came to know many of the student participants in this program and spoke to them about his commitment to Ethiopia. He inspired students to always remember the needs that they witnessed as a part of this program. In addition, he partnered with Regis University to support efforts aimed at raising money to build the capacity of Ethiopian nonprofit agencies and schools. For example, in 2007-2008 Noel helped RHCHP students and faculty to raise $20,000 to send a crate of medical supplies and textbooks through Project CURE, a Denver- based international nonprofit organization whose mission is to redistribute medical supplies to places in need around the world. The market value of the crate was estimated at $400,000. The crate helped to outfit the Hossana Health Sciences College in Hossana, Ethiopia with lab equipment and hundreds of new nursing textbooks. When the 2009 Regis cohort arrived at Hossana, the reception we received spoke to the power of this donation which had arrived one month earlier. Students and faculty did lab demonstrations with their new equipment, they toured us through their newly expanded library with shiny new textbooks that many students were making use of, and they treated us to an exquisite meal and traditional coffee ceremony. They were overwhelmingly grateful and we could feel the impact of this donation toward improving the quality of education.
Most recently, the collaboration with Noel that I am most proud of led to the construction of two rural community school buildings outside of Project Mercy's compound in Yetebon, Ethiopia. I would like to share how this amazing accomplishment came to be because it captures the essence of Noel and, needless to say, it is another achievement that we must credit him for. In May of 2010, I visited Noel at the restaurant he owns and operates, Strings. I had an agenda to discuss with him request that came during RHCHP's most recent visit to Ethiopia. I was hopeful that my meeting with Noel would result in his support and partnership regarding the request. I knew if we partnered together it would greatly enhance the possibility of fulfilling the request. I had just returned from Ethiopia with a group of Regis students and our primary partner, Project Mercy, asked Regis, over a candle-lit late night conversation, to help either renovate or build a new community school down the road from the Project Mercy grounds in rural Ethiopia. The organization has its own school and it is one that provides a high-quality education to local kids who are able to get accepted into it. However, the school that is operated by Project Mercy is only capable of taking 200-250 kids each year due to the size and resources that are in the school. The problem is that each year more than one thousand kids pour down from the mountain sides surrounding the school with hopes of being one of the lucky few to get in. Those who aren't lucky enough to be accepted into the school that is operated by Project Mercy end up attending the local community school. Project Mercy explained that this school was infested with termites, that kids had to sit on dirt floors, and that the overall structures of the school buildings were in disrepair. Project Mercy told me it would take about $12,000 to renovate the current buildings or $80,000 to build an entirely new school building. I wanted to help raise this money and I had worked with previous Ethiopia student cohorts to raise $10,000 for other projects, but I had serious concerns about raising the $80,000 that was needed to construct a completely new school. When I met with Noel to discuss the request, I stressed to him that Regis was not a development organization and that I wanted desperately to be part of building a new school building in Ethiopia but we needed a partner like him and collaboration of other people or groups in Denver to make it happen. Noel patiently listed to me and then, in his very Irish, very direct manner replied, "I will be damned if we are going to raise $12,000 to renovate a community school in rural Ethiopia when in five years the building is going to be right back where we started. We are building a new school in Ethiopia! What do you think about that?"
And so the fundraising efforts began. Today, roughly a year and a half later, with the help of Regis students and faculty, along with a handful of other partners, we have raised every penny of the $80,000. Miraculously, because of Project Mercy's desire to not favor one community school over another, the one school building has turned into two brand new school buildings that are scheduled to be finished this month. Approximately 400-500 kids will now have a dignified place to learn. There were a lot of people who supported this project but Noel was the one who inspired all of us to aim big. It was his perspective that taught those involved in the project, if you put the vision out there, people will gravitate to it and you will find the support you need to cross the finish line.
If you know Noel or know of Noel, you then know that this is just one of so many examples of how he inspired the world to change for the better. In this case, going forward, the lives and education of thousands of kids will be forever changed and made better because of my friend, Noel. When you think about it, it is rather simple. Noel had the uncanny ability to shoot for the stars, set big goals, tell everyone he knew about them and eventually the needed support would come; resulting in more lives changes forever! Noel's impact on the world will live on in so many meaningful ways. He was one of the kindest and most inspiring people I have ever met and I am so grateful to have had the opportunity to work together with him on what he loved most, making the world a better place.
Since his death, many people connected to Noel that I know, including me, have been wondering how to honor him. One easy way to do this is to keep telling stories of the larger than life man. Like a project Noel would raise money for, let's all commit to keep putting the story of Noel Cunningham out there. We owe it to him and we owe it to ourselves, for he was human like us, and a remarkable one that we will all miss. The stories of Noel will help keep him strong in our hearts and his legacy to live on in thousands of lives that have been and are still being transformed from Noel's tireless pursuits.