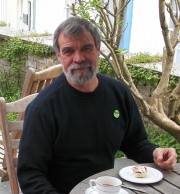 When Dublin traditional singer and set dancer Jerry O'Reilly learned that he would meet some Colorado folks as he travels through the Mile High City he got excited,
"That's brilliant! I'll be looking forward to it. How about me teaching the Sliabh Luachra polka set or the Clare Lancers reel set. These are two sets that I particularly like… Pick one that you think your dancers would enjoy and that we can have some fun learning."
So the party is set for October 27 at Eron Johnson's Antique Warehouse 389 South Lipan, Denver. The Event is free; Doors will open at 6:30P for a little social hour and then at 7:30P we'll see if we can create a few tidy sets across the room. Bring a song, tune, or your dancing shows. We do request a RSVP by October 25th so contact us now at numbers below.
Jerry is a founding member of the Brooks Academy Dancing School established in Dublin in 1982 and is still actively involved teaching a weekly dance class. He is in demand as a teacher/caller all over Ireland, the U.K., Europe, The United States and Canada.
Jerry has taught dancing in Paris to the Association Irlandaise annually since 1988, at the Willie Clancy Summer School since 1984, at Wadebridge in 1998, at Sidmouth in 1999 and at Whitby Folk Week every year since 2000.
He also gave instructions for sets at the North American Convention of Comhaltas Ceolttoir-Eireann in Washington D.C in 2000, and paid a return visit there in December 2001. He was also called upon to teach dancing at 'Feile Cois Chuain' in 2004, The North Atlantic Fiddle Convention in Aberdeen in 2006, and has recently returned from teaching at the North Atlantic Fiddle Convention and the Newfoundland and Labrador Folk Festival in St. Johns, Newfoundland.
A noteworthy Irish traditional singer, Jerry was exposed to the music at an early as by his family. "I've been listening to songs and singing all of my life. My first memories of singing were in my paternal grandparents' house in Pembroke Cottages in Donnybrook.
I have memories of crawling around on the floor as a toddler during Hoolies there – listening to the singing and, I'm told, emptying all of the bottles. My grandmother Annie Bissett was a magnificent singer with a 'big' voice. I can still hear her in my mind singing Teddy O'Neill. My grandfather 'Jacko' O'Reilly was also an excellent singer who had joined the British Navy during the First World War and whose favorite song was Bold Robert Emmet."
If Jerry shows up October 27th wearing blue he has a good reason.
Another one of his passions is Gaelic Football and Hurling, and particularly the Dublin Gaelic Football and Hurling teams. The sounds of the song "Boys in Blue" still ring in his ears from the celebration September 18th in Croke Park after Stephen Cluxton scored the winning point for Dublin as they beat Kerry to the All-Ireland to capture the Sam Maguire Cup. Jerry gushed after the victory, "I've the mother and father of a hangover, but what a day. And to snatch it at the last minute like that was magic!"
Well, we'll have to tell him about our Denver Gaels!
No charge for this event but donations will be accepted for the instructor.
Eron Johnson Architectural Antiques Warehouse is at 389 South Lipan, Denver, CO
Thursday October 27, 6:30P Doors.
Directions call 303-722-2014 ‎ (Note: Not the other store on S. Broadway)
Please RSVP by Oct 25 to CelticEvents@rmi.net or 303-777-0502