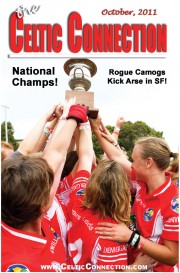 Story & Photos by Amanda Rieker
The stands erupted into barely controlled chaos as the final whistle blew, signaling the success of six years of recruiting, training, and commitment to a dream of winning a Camogie championship. The hard fought battle on the pitch against the girls from Washington DC was the culmination of years of hard work. It ended with a one point win in overtime. But all that mattered to the Rogue Camogs at that moment was the trophy in their hands.
The North American County Board (NACB) is the governing body of Irish sports in the US, including Camogie. They host a playoff tournament over Labor Day at a rotating host city. This year it was in San Francisco, CA. The ladies from the Denver Gaels had previously joined up with Seattle and Twin Cities to field a team in 2010, the inaugural year for the Rogue Camogs. In 2011, Seattle fielded a full team of their own. This left Denver and Twin Cities to join forces for a second year. This ragtag group of girls finally unseated the multi-year champions from Washington DC for the Junior Camogie crown in San Francisco.
Camogie is an exciting, fast-paced sport that incorporates dexterity, finesse, agility, speed, and endurance. It's baseball and ice hockey combined and turned upside-down. Points and goals are scored by teams made up of 13-15 players per side. The men's companion sport of hurling is the national sport of Ireland. It's 3,000 year history and role in modern Irish life are unique. It's more than a sport, it's a community.
In Ireland, it's a way of life, similar to baseball in America. Children are introduced to hurling and camogie in school. The friendships and camaraderie born out of the sport in Ireland become a foundation for adult life. As described by an Irish-born member of the Denver Gaels, "when we were kids, we used to say we bleed blue. We'd do anything for each other."
In the US, most don't learn about the sport until adulthood.
"I got involved with hurling in 2000 in Milwaukee. I played for five years in their leagues. My brother had played a few years and got me into it. It was the first sport I really got excited and jazzed about – LOVED it, obviously," described Jess Haxton-Retrum, one of the founders of Camogie in Colorado. "Jenn Dressler and I built the Camogie team [in Milwaukee] and after a few years of recruiting and training as a team, we went to finals…in 2003. We beat DC, the only other team in the junior category."
Jess relocated to Denver in 2005 and started training with the Denver Gaels. The club had originally played only Gaelic football, but in 2004/05 it took on hurling as well. The club now hosts a couple of thriving and competitive hurling teams. The Rogue Camogs are continuing their search for new players with a sense of spirit, competitiveness, and camaraderie to join their family.
"Sometimes it's hard to find women who appreciate the physicality of Camogie. If you recruit from pools of women who already like lacrosse, rugby, hockey, and soccer you may have better luck," added Jess.
Kyle Shane, a Co-Captain of the Champion Rogue Camogs, believes the friendly, welcoming environment is also a big seller for playing on the team. Kyle discovered the sport at the Colorado Irish Festival in Littleton in 2007. Her rugby background quickly made her popular with the team. "It was great to be a part of such a welcoming team with great leaders and support. It made the first year of fumbling around very enjoyable and inclusive," she said.
Kyle added "even if you haven't played sports before, you can pick it up pretty quickly and get such an amazing feeling of accomplishment, exercise, and friendship/connection with your team. The sport really offers something for everyone."
In the 2010 playoffs, Kyle injured her knee while playing gaelic football. Her subsequent surgery and physical therapy didn't hold her back from leading the Rogue Camogs on to victory in 2011. She continued to lead practices and fitness sessions despite being unable to run the drills herself. Her leadership and optimism inspired the rest of the team to perform at their highest levels.
Kyle's goalkeeping skills helped the Rogue Camogs qualify for the 2011 championship match in San Francisco. The ladies were able to defeat teams from Seattle and Indianapolis through their strong defensive maneuvering. However, their final match against Washington DC in the round robin-style contest saw the ladies struggling with strain and exhaustion. They finished the marathon of matches with two wins and one loss, qualifying them for the championship match with Washington DC.
On Sunday, the final day of competition, the girls knew they were going to face down a strong rival. After a day of rest, they were ready. The previous match gave them insight into their competition. They devised a new strategy, reworked the lineups, and set their minds on bringing home the trophy. The full length match featured strong defense on both sides, limiting the scoring opportunities. With one goal and one point each, the teams went into overtime. It was a battle of epic proportions on the pitch. The underdog Rogue Camogs were determined to defeat the repeat champs. Christie Washam of Twin Cities helped the Rogues take an early lead in overtime with a point. Kyle Shane stopped several attempts by Washington DC to equalize. When the final whistle blew, the ladies swarmed their Co-Captains Kyle Shane and Sarah McFarland of Twin Cities.